Coventry University celebrates historic honour awarded by the late Queen Elizabeth II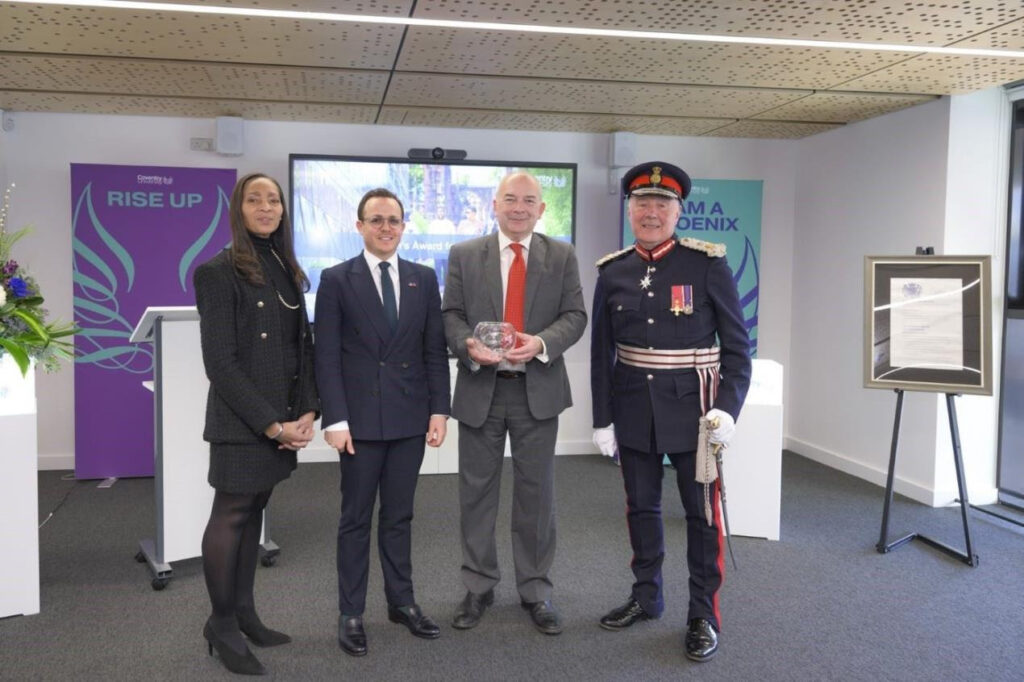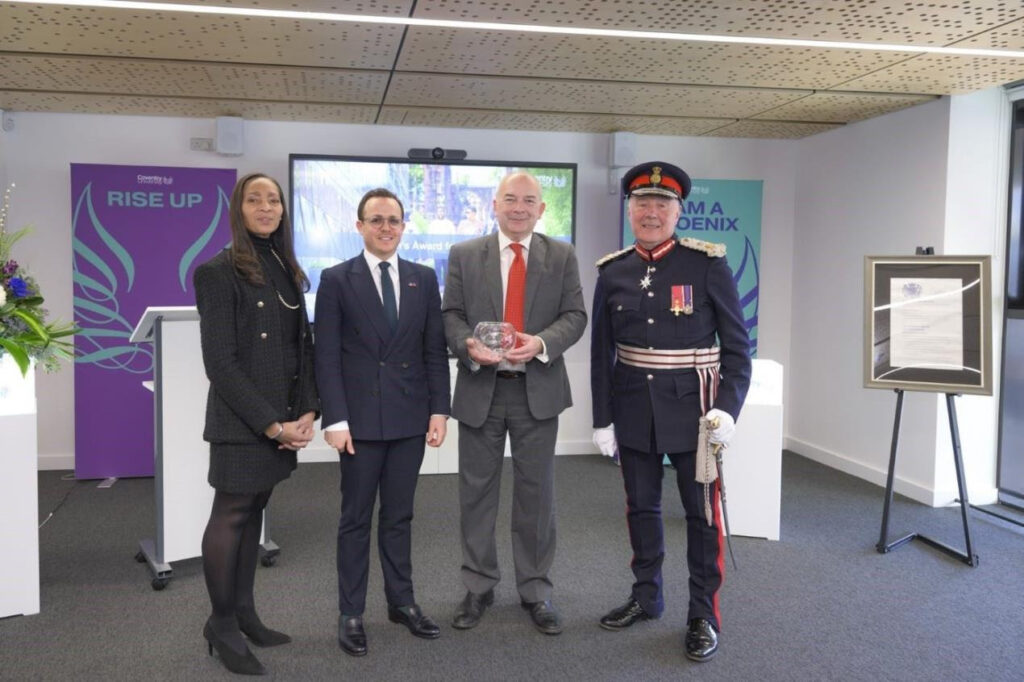 Queen's Award
Left to right: Chancellor Margaret Casely-Hayford CBE, Moroccan Ambassador to the UK HE Hakim Hajoui, Vice-Chancellor John Latham CBE, Lord Lieutenant of the West Midlands Sir John Crabtree.
Coventry University's incredible connections with countries across the globe have been recognised in one of the last awards in the name of Her Majesty Queen Elizabeth II.
The Queen's Award for Enterprise, the UK's most prestigious business award, was awarded to Coventry University for its tireless work building relationships with institutions and companies throughout the world, while also drawing thousands of students from around the globe to its campuses across the UK.
The award was one of the last Her Majesty The Queen would have approved before her death in September last year.
This year The Queen's Award will be renamed in tribute to her successor and son King Charles III, as the King's Award for Enterprise.
The Lord-Lieutenant for the West Midlands, Sir John Crabtree OBE, was on hand to make the presentation at Coventry University's new Delia Derbyshire building – part of the Faculty of Arts and Humanities – on behalf of the monarch.
The award, in the category of International Trade, comes as there were 15,565 international students from over 150 nationalities are studying across the Coventry University Group in 2021/22, making it the sixth largest higher education recruiter for international students in the UK.
Coventry University Group's global outlook has also seen it establish a network of global hubs, in Brussels, Dubai, Singapore, Rwanda and Beijing, in addition to its campus in Wroclaw, Poland, and branch campus in Egypt, as well as a joint institute with Communication University of China that launched in September 2022.
Sir John Crabtree OBE paid tribute to the late Queen and met Coventry University Vice-Chancellor, Professor John Latham CBE, and the Chancellor, Dr Margaret Casely-Hayford CBE, to present the award to the university.
Sir John Crabtree OBE said: "These awards were introduced in 1966 by Her Majesty, Queen Elizabeth II as she was very keen and determined to support British enterprise.
"Coventry University now has one of the last awards she would have approved.
"This year's winners will be the King's Awards for Enterprise which means Coventry University will be in the last batch of The Queen's Awards, which I think is very fitting.
"It is a real accolade because Coventry University has got this award for an international focus on jobs, skills and work to welcome people to our region."
Dr Casely-Hayford CBE said: "Sadly we lost our wonderful monarch, the late Queen, last year, so this is one of the last awards that will ever be made and titled The Queen's Award, which makes it even more special.
"For us, this prestigious award really is something we value as a global education group that is committed to widening access to quality education.
"Our mission is creating better futures and that is not confined to these shores or to the people of this country. We passionately believe in the power of education to transform lives across the world and communities and have five core values that help us achieve that.
"Our international students bring diversity of thought, outlook, their approach to issues, all of which help the university community and the wider community accelerate positive change."
Coventry University Vice-Chancellor Professor John Latham CBE said: "This is the second time we have won this award and that has happened through innovation, talent, teamwork and determination. This event was a chance to celebrate our international success but also reflect on the legacy of Her Majesty, Queen Elizabeth II.
"Students from 150 nations study across our group – this is what Coventry is about. We're a global institution preparing people for a global world as we move forward. We're so proud to have won this."
The Moroccan Ambassador to the UK, His Excellency Mr Hakim Hajoui, also attended the ceremony as the university prepares to open a branch campus in Casablanca with The British Schools Educational Services Prives.