Poultry Industry Continues To Be In Service To The Nation
Hyderabad, November 21, 2023: Despite challenges across all fronts, India's broiler production for 2019 is projected to increase by 7 percent to nearly 6 million tons, processed chicken meat demand is projected to grow between 10-21 percent and layer production is forecast at 125 billion eggs!
This success story –the envy of almost all developed nations – would not have been possible without the steadfast endeavours of Indian poultry farmers who have collectively raised poultry to become a phenomenal 120,000 crore industry and one of the prime sectors focusing on the food and nutritional security of the nation.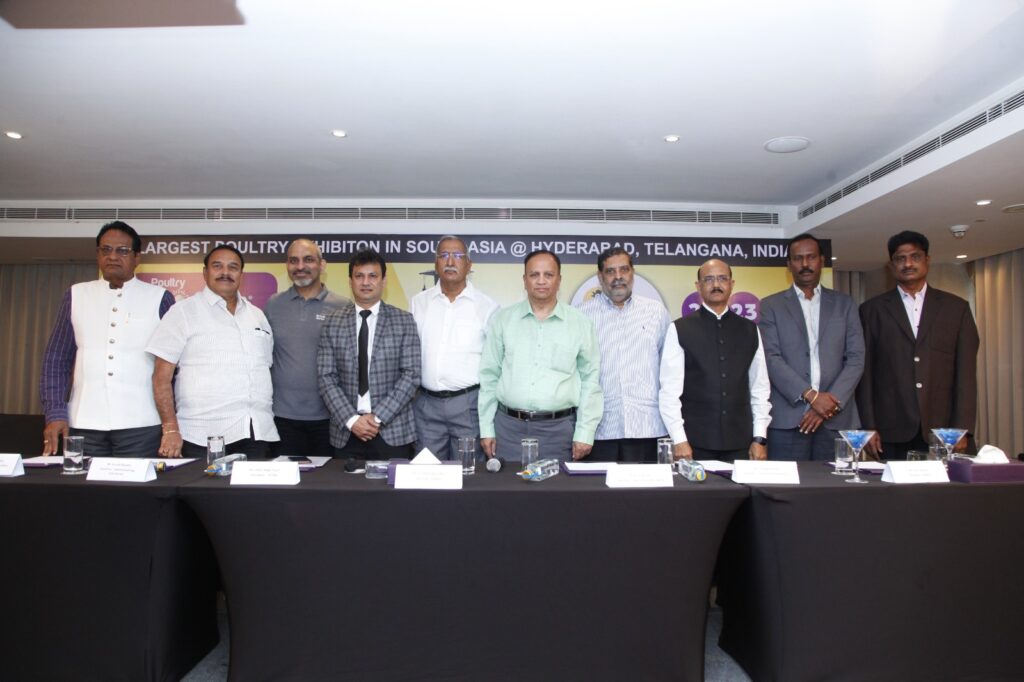 As the world's 2nd largest egg producer, India today is the Third largest chicken producer after China and USA. "There is no gainsaying the fact poultry industry is playing a flagship role of being India's champion to eradicate malnourishment and protein deficiency in the country," said Uday Singh Bayas, President, Indian Poultry Equipment Manufacturers' Association (IPEMA), organizers of this mega event in Hyderabad which is now in its 15th year.

Mr Uday Singh Bayas, President, – IPEMA was speaking at a media conference to announce the beginning of the 15th Knowledge Day Technical Seminar (November 21st) at HICC and the 15th Poultry India Expo (November 22-24) at HITEC City. He was joined by several members of the Executive Advisory Committee, all Industry stalwarts from across the country.
Poultry India Expo – South Asia's biggest – has attracted a record 380 companies from India and 45 companies from abroad and is expected to draw over 30,000 business visitors across 32,500sqm and 6 exhibition halls at the HITEC venue which is the pride of Hyderabad. The 3-day exhibition starts on November 22. On November 21, the much acclaimed Knowledge Day will shed light on various factors that beset the poultry industry. More than 1500 delegates from India, Africa, Europe, the USA, and SAARC nations will listen to the world's finest minds speak on the latest scientific innovations in breeding, hygiene, nutrition, animal health, poultry equipment, and marketing.