Despite Losing 2 Children, Asha Finds Hope in Oasis Fertility to restart a Family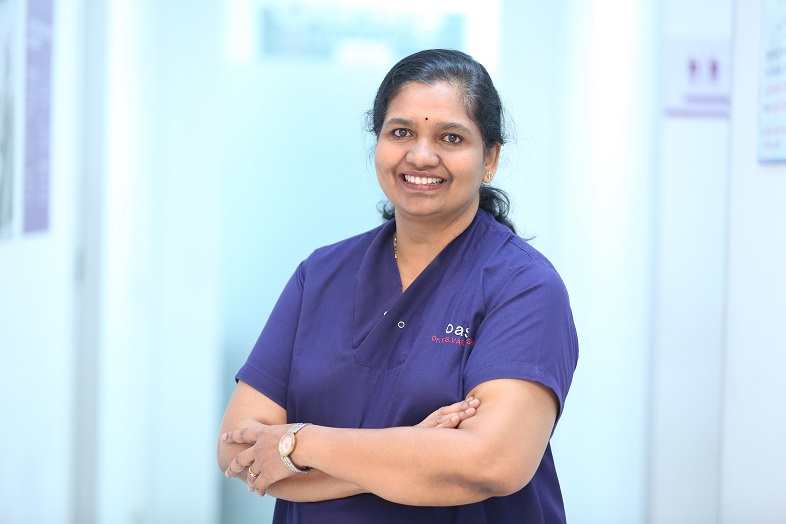 Hyderabad, 21st September 2021: Mrs. Asha (name changed), 33, and her husband Mr. Srikanth (name changed), 38, married for 5 years, was diagnosed with secondary infertility. The couple lost their two children in an unfortunate accident and was trying to conceive once again. After a few unsuccessful attempts, they approached Oasis Fertility. The couple was evaluated at the centre, which diagnosed that she had an ISTHMOCELE, i.e., defect in the caesarean section scar, even though her other conditions and her husband's semen parameters were normal.
IVF+ICSI was planned for Asha and 3 embryos were created by the doctor from Oasis Fertility. The fluid in the uterine cavity was noted during IVF stimulation. So, an embryo transfer was not done in a fresh cycle. Frozen embryo transfer was then planned in an HRT cycle, but was canceled again because of persistent fluid in the uterine cavity. The Clinical Head and Fertility Specialist had decided upon surgery to fix the Isthmocele.
Speaking after performing this complex surgery, Dr. Y S Varalakshmi, Clinical Head & Fertility Specialist, Oasis Fertility, said, "A treatment plan was formulated to overhaul the isthmocele through a Hyster laparoscopy with delinking of fallopian tubes. Subsequently, a frozen embryo transfer was done in the hormone replacement therapy cycle and was successful. This resulted in conception. The personalised treatment that Oasis Fertility provided the couple, helped the lady conceive, and attain their dream. The lady is now 12+ weeks pregnant. Specialized infertility treatments such as these are now giving hope to many couples in a similar situation, giving them another chance to experience the joy called parenthood."
"Over the years, the caesarean delivery rate is steadily increasing globally. The caesarean scars are one of the most common gynaecologic sequelae, which cause a defect in the uterine wall at the previous site of incision made during the surgery. These are associated with obstetric complications such as C-Section scar pregnancies, uterine rupture, abnormal placental implantation, and secondary infertility."
"There is no definitive approach for diagnosing an isthmocele, as there are several imaging methods that can be used to access the uterine wall and scars. However, a transvaginal ultrasound and saline infusion sonography emerge as specific, sensitive, and cost-effective ways to diagnose isthmocele. The prevalence of isthmocele reported is around 24-70% on transvaginal ultrasound," Dr. Y S Varalakshmi, Clinical Head & Fertility Specialist, Oasis Fertility added.
Post-surgery, an elated Ms. Asha (name changed), said, "I'm really happy to become a mother again after the disturbing time that I faced for the last few months after losing my two children. I'm very thankful to the experienced doctors at Oasis Fertility who conducted the surgery successfully, helping my dream of motherhood come true again. The coordination, right from the doctors' consultation stage, to the procedure of IVF and the complex surgery by the specialists at Oasis, has been very professionally done. I would like to recommend Oasis Fertility to those failing to conceive."
About Oasis Fertility: Oasis Fertility, a unit of Sadguru Healthcare Services Pvt. Ltd., has redefined reproductive care in India by bringing in internationally recognized best practices and protocols in fertility treatments. It offers would-be parents a friendly 'one-stop' daycare clinic where consultations, investigations, and treatment are all conducted under one roof. Since its inception in 2009, Oasis has gained an excellent reputation for its high success rates, driven by its high-quality services, led by a team of highly experienced infertility specialists with international experience. The chain has expanded to 17 centres across the states of Andhra Pradesh, Telangana, Tamil Nadu, Karnataka, Jharkhand, Gujarat, and Maharashtra.