Ankura Hospital is Great Place to Work Certified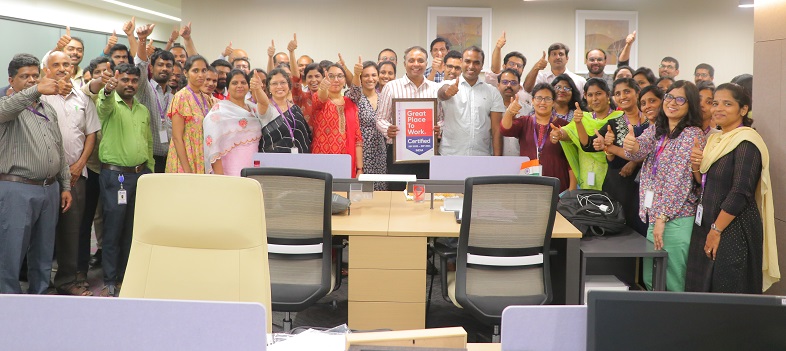 Hyderabad: September 26th 2023 – Ankura Hospital, a premier women and child care hospital has received a certificate by the Great Place to Work®️ Institute. This recognition highlights Ankura Hospital's commitment towards employee's well-being with a clear focus on fostering a high trust culture and a conducive work environment. The hospital embraces a philosophy of care. It is committed to supporting its employees, partners, patients, and communities at large. Ankura Hospital becomes the only large- women and childcare hospital in Telangana to be certified by GPTW.
Ankura Hospital ensures cohesive team culture with clearly defined roles for employees. The establishment has best-in-class healthcare infrastructure to ensure excellent patient care. The hospital also follows a policy of transparency across operations, leadership and financial management inculcating a sense of trust within the organization.
Ankura's specially curated ecosystem at work place is sensitive to the needs of women as they are a women empowered organisation with more than 70% female employees. The hospital strives to create an atmosphere which includes wellness programmes for women employees like emotional well-being, webinars, Instagram reels, health check-up camps for women employees, discounts for diagnostics and exclusive packages for maternity. The hospital also organises regular events and celebrations where they honour employees for their long-term commitment, innovation, leadership, and other qualities.
"Being recognized as a Great Place to Work demonstrates our commitment to being a company that puts people first and maintains a high-trust culture with a positive and empowering work environment. At Ankura, workforces across all age groups remain transparent, respectful and trust each other. We follow an open door policy where employees have a right to share their inputs on internal issues. We ensure that -employees feel valued, respected, and motivated to do their best. With ample opportunities for personal and professional development, Ankura provides not just a workplace but also a platform for growth and success." said Dr. Krishna Prasad Rao Vunnam, Founder and Managing Director, Ankura Hospital
Great Place to Work® is the global authority on workplace culture. Since 1992, they have surveyed more than 100 million employees worldwide and used those deep insights to define what makes a great workplace: trust. Their employee survey platform empowers leaders with the feedback, real-time reporting, and insights they need to make strategic people decisions.
The recognition is based on confidential employee survey data assessing their experiences of trust, innovation, company values and leadership. Great Place to Work® identifies the top organizations that create great workplaces in India through publishing and certifying the annual Best Workplaces in India list.