Union Minister Jyotiraditya Scindia Felicitates Leading HR Professionals At Margdarshak Awards- 2.O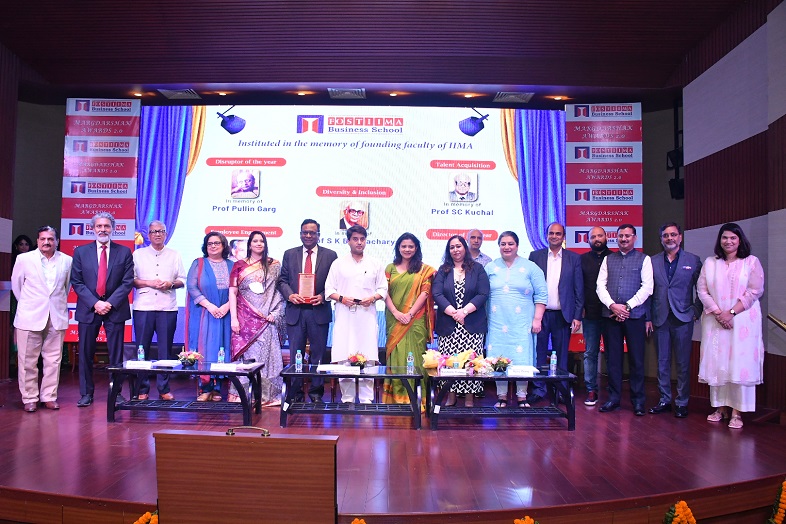 Honorable Guest of Honour Mr. Yashish Dahiya, the co-founder of Policy Bazar, shared the stage at the award ceremony with other renowned names of the industry.
17th September 2022, Delhi: FOSTIIMA Business school, one of the best PGDM colleges in Delhi NCR, hosted the for HR professionals in the honor of the founding faculty of IIM-Ahmedabad.The event was presided over by Chief Guest, Honorable Shri Jyotiraditya M. Scindia, Union Minister of Civil Aviation and Steel. Mr. Yashish Dahiya, Co- Founder and CEO Policy Bazar was the Guest of Honour. The prestigious ceremony was attended by a distinguished Advisory Council, corporate luminaries and senior HR Professionals whose extensive and varied experience made it a memorable event.
The MARGDARSHAK AWARDS were instituted in the memory the founding faculty of IIM- Ahmedabad all of whom were visionaries, teachers of very tall stature and institution builders. The awards are categorized into 10 categories ie Hall of Fame, Lifetime Achievement, Young Turk of the Year, HR Director of the Year Award, and Excellence in Employee Engagement Award-to name some. The ceremony was an unforgettable experience where great HR professionals came together to be recognized and awarded.
Addressing the guests at the award ceremony Honorable Shri Jyotiraditya M. Scindia, Union Minister of Civil Aviation and Steel, said."India has reached , where no power in the world can deny our place in the group of nations and we have made it happen. The awardees and their work have not only impacted individual lives but in a way it is changing the nation. The only way that we can keep empowering life is through developing Human Resources through innovative ideas.
HR is the soul of any organization and it helps the organization to stay balanced and perform better. It's inspiring to see that in today's list of awardees, we have more women professionals and hope in near future too we will see this trend go up and more and more women come forward and lead from the front."
Mr. Yashish Dahiya, The Guest of Honour, sharing his views with the audience said""I first learned about the Margdarshak Award from our HR Head, who won one of the awards last year and quite honestly, I did not know enough till I came here today. I think the quality of the awardees was just stunning. The Judges I saw are absolutely stellar. KPMG's diligence is simply to be awesome. So, congratulations for conducting this event and achieving this level of quality in just the second year award ceremony. And as you said, I think the workforce makes any company amazing and the HR head of the company helps in keeping these people together."
The Young Turk of the Year award was given to Ms. Pragya Singh, the Associate Director- HR Pepsico. Mr. Girish Menon, Head HR, Swiggy received Talent Acquisition and Retention Award while. Mr. P Dwarakanath, HR Director GSK Consumer Healthcare , South Asia received The Hall of Fame Award. Other than these, CHRO of Sony Pictures,Ms Manu N Wadhwa, HR Director of Amazon,Ms Swati Rustagi, CHRO of Unilever Ltd, Ms Anuradha Razdan, Director of Hytech, Mr Vivek Mittal, CHRO of Makemytrip.com, Mr vYuvaraj Srivastava and The HR Heads of Lemon Tree Hotels,Ms Aradhana Lal and Mr Rajesh Kumar, were also felicitated in different categories of MARGDARSHAK 2.0 awards.
On the success of the MARGDARSHAK Award 2.O, Mr. Anil Somani, Chairman, FOSTIIMA, said, "It's my privilege to welcome all of you to this felicitation ceremony of MARGDARSHAK 2.0. Our Institutes are known more by its students or alumni and the role of its faculty who keep working silently in shaping the careers of these students is often ignored.. These awards are not bestowed. They are won by a very fair selection process which has been standardized and streamlined by KPMG. We started FOSTIIMA in 2007 and we now have a 15 years old history. Now, we have an excellent faculty and very good placements. MARGDARSHAK AWARDS is our way of thanking the HR professionals for creating better workplaces and in the process creating a better workforce.
It was in 2020 that, FOSTIIMA Business School instituted MARGDARSHAK AWARDS for HR Professionals. It was very satisfying to see such a positive response and enthusiastic support—- to the extent that it has convinced FOSTIIMA to host the MARGDARSHAK AWARD 2.0.