Ruar Launches Saava and Satapadi : Summer Spring Saree Collection For Brides
New Delhi, May 2023: Ruar launches Summer/ Spring saree collection Saava and Saptapadi for brides and Bridesmaids. The exquisite collection consists of handcrafted embroidery and a revival of traditional unique designs. The myriad of colors matches the hues of summer. The fabric is well suited for Indian summers like chiffons and tissues. Ruar follows an ethical design philosophy and brings about an innate sense of comfort. It is sure to bring appreciation to its wearer whenever attending any event.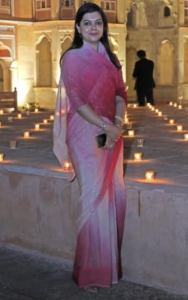 Saava: Royals and tissues have always had a long-lasting connection, the relationship with the fabric comes down to generations. Ruar presents to you Saava the evergreen hand-embroidered tissue sarees perfect to fit in your trousseau trunk. A must-have for each bride as it is also an heirloom in disguise.
Saptapadi: Ruar brings beautiful Spring/Summer Collection Saptapadi. It is a combination of elegant and vibrant looks put together for summer brides and bridesmaids. The collection brings out traditional and classic color choices for each event in a typical Hindu wedding in the form of sarees and suits, making it effortless for every new bride/bridesmaid.
The label Ruar is a conscious label based out of Jaipur. It has a strong design philosophy and an innate sense of comfort described as intricate. The aesthetics are inspired by designers' interest in art, culture, architecture, craftsmanship, landscape, vintage art, and travel.
Commenting on the launch, Parul Shekhawat- Founder Ruar, said, " Our designs have an affinity for indigenous traditional crafts combined with a modern aesthetic. The designs have a strong sense of revival of local crafts in support of sustainable and environment-friendly techniques. We hope to keep each client's faith firm in the bespoke traditional heritage of India."