Rana Group announces Sourav Ganguly as brand ambassador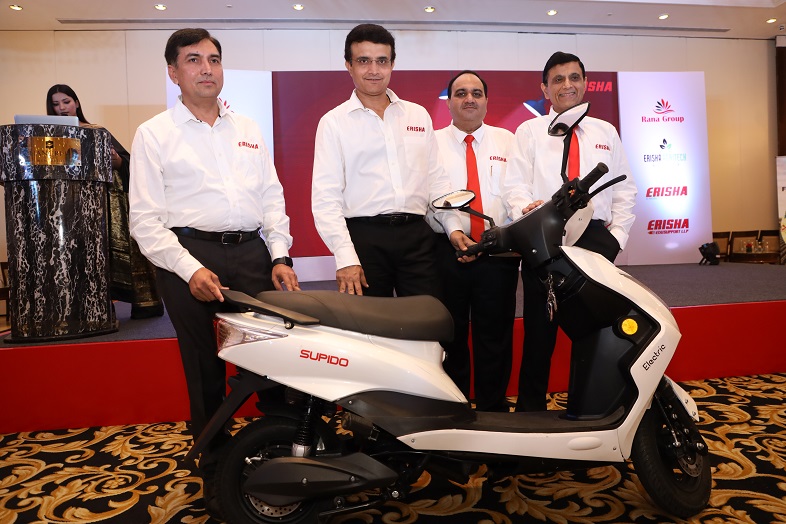 Rana Group, a conglomerate of EV and agritech manufacturing companies appointed Sourav Ganguly, former BCCI President and Captain of the Indian Cricket Team, as its brand ambassador. The conglomerate also launched an electric three-wheeler for the L5 segment and announced upcoming electric four-wheelers in the cargo, e-bus, and hydrogen truck segments as part of its Erisha E Mobility portfolio. The group also soft-launched an electric scooter called Supido at the event and showcased its upcoming OHEO mobile application among three others.
Overall, Sourav Ganguly will represent Rana Group's Erisha Agirtech Pvt Ltd and Erisha E Mobility Pvt Ltd. As part of the partnership, the group will primarily focus on its agricultural technologies and IOT-based farming solutions and develop EVs for the agritech sector. Apart from launching Ganguly as their ambassador, four different mobile applications were also launched at the event for Smart Farming, Education, Smart Charging, and the OHEO application, which will be an EV solutions platform that deals with after-sales, financing, passenger service aggregation, and more.
The Smart Charging application will be capable of locating both AC and DC chargers across the country and help users of Erisha products. Overall, Erisha E Mobility has established 107 dealerships across India and started billings of its E3Ws to end customers. The conglomerate has also signed two MoUs with the UP government for setting up 100 EV charging stations at an investment of R$ 400 crore. Production takes place at the company's 320-acre plant in Thanoi, which has been built at an investment of Rs 1,500 crore.
It is a great moment for Erisha E Mobility Private Limited to officially announce the opening of 101 showrooms pan India and the start of billing of Electric 3 Wheelers to end consumers.
Speaking on the development, Sourav Ganguly said, "I am extremely happy to be part of Rana Group. For me, every partnership means a way forward and I hope my association will take the brand a long way ahead and for years to come. I am committed to using my skills and experience to contribute to the success of Rana Group."

Our team is thrilled to work with Mr. Sourav Ganguly and is excited to announce this partnership," said Mr. Darshan Singh Rana, CMD, and Chairman of Rana Group. "We believe that Mr. Sourav Ganguly is a true representation of what our brand stands for, and we are looking forward to the positive impact that he will bring to our company.