Raminfo Ltd partners with Tripura Government's eGovernance initiatives under Digital India scheme 2.0.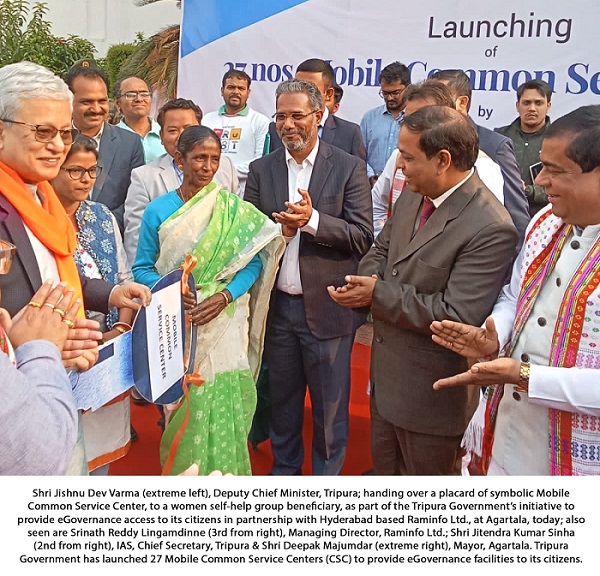 Hyderabad, December 2022: Tripura Government Launches 27 Mobile Common Service Centers, Partners with Raminfo Ltd.
In an effort to empower the needy people under the Digital India initiative, the Tripura Government has come forward and officially launched 27 Mobile Common Service Centers (CSC) to provide eGovernance facilities to its citizens and has partnered with Raminfo Ltd towards this end. All these 27 Mobile CSCs were officially launched by Tripura State Deputy Chief Minister Shri Jishnu Dev Varma at Sukanta Academy, Agartala on 25th December.
In Tripura state, there are some Gram Panchayats and Village Councils that are not covered by mobile network since they fall under geographically remote areas. In order to cover these areas, Mobile CSC have been introduced with full-fledged equipment to deliver the eGovernance services at the door steps of the citizens.
"We are happy to implement end to end solution for the entire project. We hope to do similar replication of projects in other states of the country too as per the need of the concerned state Government," Mr Srinath Reddy Lingamdinne, Managing Director, Raminfo Ltd said.
The Mobile CSC is operated with various equipment like laptops, all in one printers, photo printers, PVC card printers along with finger biometric scanners. These will be operated in vehicle with support of 4G internet device and online UPS system. All the vehicles are eco model for ease of mobility in remote areas. In a scheduled manner, these vehicles will go to nook and corners of the state and will be managed with self-sustaining mode.
Apart from Shri Jishnu Dev Varma, the program was also graced by Shri Jitendra Kumar Sinha, IAS, Tripura State CHIEF secretary; Dr Naresh Babu N, IFS, Director Information Technology, Tripura; Shri Biswajit Debnath, State Head, CSC eGovernance Services LTD; Sri Suprakash Jamatia, Joint Director, DIT; Shri Srinath Reddy, MD, Raminfo Ltd; and Self-help Groups from various parts of State.
Pic Source: Totem PR