Pune hotel emerges as the most booked OYO hotel across India, reveals OYO report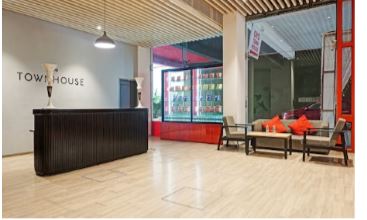 Pune(S.N): A Pune hotel has emerged as the most booked hotel across India. OYO Townhouse 100 Somani TC tops the charts as the platform's most booked OYO. Interestingly, the second most booked hotel, OYO townhouse 127 Alpha also belongs to Pune.
This 100+ room property is located at Hinjewadi – Pune's famous IT hub, which houses offices of several global software companies and MNCs.
Global travel technology company, OYO, is spread across 35+ countries with the largest hotel footprint in its headquarters – India. Given the platform's vast presence across the country, it is easy to spot an OYO almost everywhere. Today, in a first, the company unveils its most booked OYOs across India. OYO reveals that Pune emerged as the most booked city in West India and the fourth most booked city across India. Other cities such as Delhi NCR, Bangalore, and Hyderabad top the list for most booked OYOs.
With nearly 20 hotels, a majority of OYOs in the top 50 list are located near important transit hubs and key corporate complexes, demonstrating high consumer demand for properties that are centrally located near commercial centers with easy access to transport. This is followed by a high demand for hotels surrounded by nature and lush green views among leisure travelers.
The high demand for OYOs around key transit hubs can be attributed to the platform's effort to offer affordable, hygienic stays having important amenities such as air-conditioning, pleasant ambiance, fast net connectivity with easy accessibility, and flexibility in modification of bookings in case of any last-minute changes.
India's Top Ten Most Booked OYOs
As per OYO's data, over 10% of the Top 50 properties maintained an occupancy rate of 100% or above in June 2022, the period for which this ranking has been compiled. Interestingly, nearly 24 of the Top 50 most booked hotels are OYO Townhouses, the platform's mid-premium stay offering.
Commenting on OYO's effort to provide affordable stays for consumers across various segments, Shreerang Godbole, SVP – Product & Chief Service Officer said, "Our most booked OYO's list is a good proxy for the location types that see heavy bookings, – be it visiting a loved one at a nearby hospital, staying back at a hotel near your kid's university, or even heading out on vacations. We hope that with our platform, we continue to serve the requirements of all traveler types who choose to stay with us. To further empower consumers with the power of decision-making around travel, we have also rolled out features such as 'Pay at the hotel' and flexible booking modifications."