JobStrot a Tech based HR platform reveals its 6 pronged technology strategy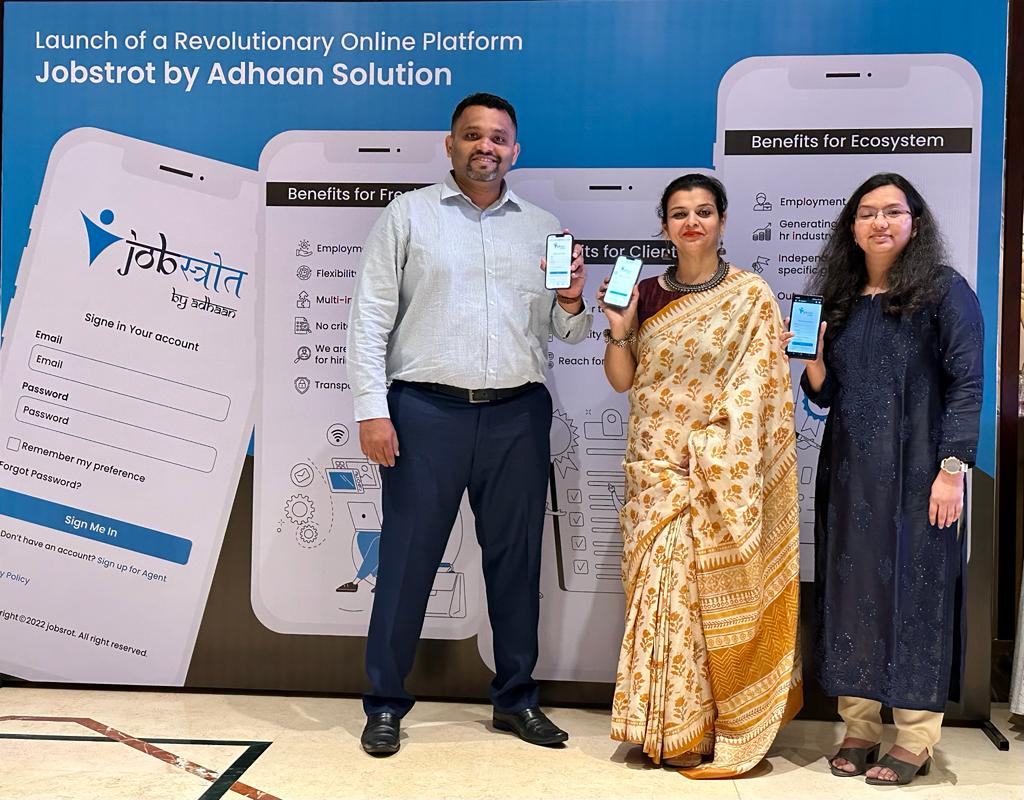 Pune, 31 January 2023:Adhaan Solutions Pvt Ltd has launched JobStrot, a recruitment platform that utilizes advanced technology to help freelancer recruiters. The platform features a variety of tools and resources that assist recruiters in finding the ideal candidate and it also benefits employers as they get quality and quantity of CV's
The platform digitizes the process of finding candidates and offers numerous benefits to freelancers and recruiters by adding dashboard-based updates, transparency, and an opportunity to drastically enhance their income due to the 40% revenue-sharing mechanism. The platform was launched last month and has seen good traction from recruiters.
Additionally, the platform provides clients with a wider reach for all industries. JobStrot has independent recruiters all around India, allowing clients to find recruiters who specialize in their industry. JobStrot allows 3X CVs one-third less time and this can be especially beneficial for small and medium-sized businesses that may not have the resources to conduct a nationwide search on their own.
Ms Bhavna Udernani, MD of Adhaan Solutions, stating her views, commented, The platform is truly revolutionary in the way it utilizes advanced technology to make the job search process easier. These 6 tech features are the pillars for JobStort to make it scalable, easy to use, and secure. As an HR professional, I believe that JobStrot is a valuable tool that can make a real difference in the job market"
Top Jobstrot Tech Features:-
 Intuitive dashboard – The technology used for creating this dashboard includes web development languages and frameworks such as react, bootstrap, SASS, data visualization libraries and tools, and database and data management systems. With the help of this technology a visual representation of data or information in the form of charts, graphs, and other types of visualizations, and allows users to interact with the data.
 Auto invoice generation – The programming languages like Python are used to write custom code that generates invoices based on specific business rules and data inputs. The benefit includes customizable templates, automatic calculation of totals and taxes, and integration with payment gateways and accounting systems.
 Automatic agreement generation – We use Natural language processing (NLP), It is a type of artificial intelligence that allows computers to understand, interpret, and generate human language. It uses NLP to take structured data inputs and generate a document in natural language.
 Duplicacy removal – Our software uses Hash functions which are algorithms that take an input (such as a string of text or a file) and produce a fixed-size output called a "hash." In short, freelancers can not submit profiles of candidates already submitted on our platform eliminating the chance of duplicate CVs and confusion between freelancers for the closing of their candidate
 security – JobStrot uses a Web Application Firewall (WAF) which Filters out traffic known or suspected to be taking advantage of web application vulnerabilities protecting the data of the freelancer recruiters. It also uses SSL/TLS encryption by GoDaddy which protects sensitive information sent over a connection. The platform allows freelancers to work carefree without having to worry about sharing their personal details. It shields freelancers from phishing and online cyberattacks.
 Cloud-based – JobStrot is hosted on the AWS cloud platform built on NGINX – the fastest web server available. It offers various services like a combination of infrastructure and software services, along with computing power, scalability, reliability, and secure database storage.