Experience Timeless Beauty with Navrathan Jewellers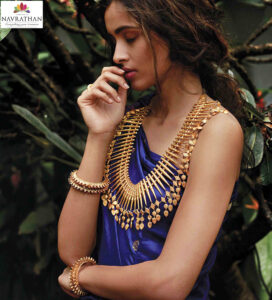 Navrathan Jewellers have delighted the connoisseurs of good jewellery throughout India for half a century with breathtaking designs, and intricate craftsmanship using ancient techniques to create authentically Indian creations. Be it faceted in diamonds, gold, or platinum, one is spoilt for choice with a plethora of designs in Jadau, Meenakari, Kundan, or Polki, to adorn modern-day women. Navrathan Jewellers offers jewellery for young and young at heart for every occasion. One is mesmerized by its dazzling array of designs also which brightens the wearer's spirit, heart, and soul.
Navrathan Jewellers have crafted an exquisite collection of gold jewellery that blends modern trends with ancient heritage, creating a timeless charm. The pieces feature an elegant peacock design and include studded gold necklaces, mangal sutras, chokers adorned with stones, Mayura necklaces, Lakshmi gold bangles, bracelets, and earrings. Adoring these can make one feel like a royal.
Navrathan Jewellers is exceedingly popular amongst brides because of its opulence element. What defines Navrathan Jewellers and sets them a class apart is their unique ability to combine cultural and spiritual with a trendy design which not only adds colour to your personality but also embodies astrological balance for good luck.