A Home In The Capital's HEART Satya Paul In Khan Market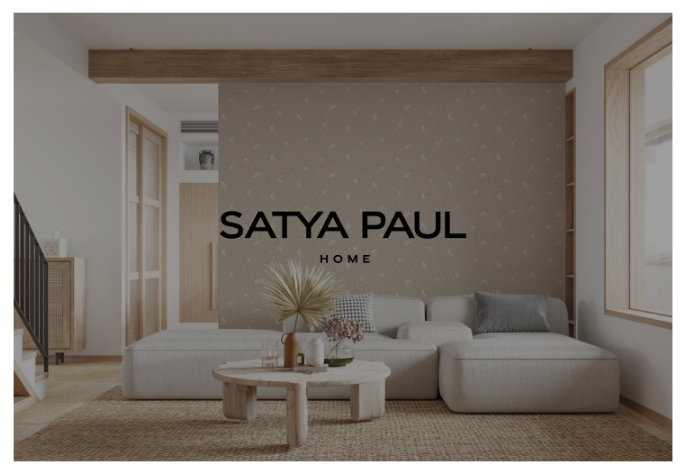 It is an honour for us to open a space in the capital's most iconic business district. For us, Khan Market, which was once a largely residential area for partition refuges, and is now one of Asia's most expensive pieces of real estate, tells a story about our city. For our brand – which has its seeds in pre-liberalization India – to have a home here is to feel this sense of shared history, with optimism for the future.
Our store is an ode to the eponymous designer, Mr. Satya Paul. He was a trailblazer, and innovations in the retail experience is where expressed his visions for change and progress. He is credited with opening Delhi's first-ever fashion boutique, at a time when shopping for clothes was largely informal. In this spirit, we created this store as a conceptual space that pays homage to his legacy. A sense of the person is created by sharing some objects from his personal collection.
The materials have been carefully chosen to reflect the natural, indigenous context that surrounds us. The white and pink makrana is locally sourced. The generous use of glass and metal ensures that our products, and the people who are interested in them, become the highlights of the space. The most memorable feature of the space is perhaps the open skylight that illuminates the store's multiple spaces. Light filtered through the ceiling dances differently at distinct times of the day, encouraging a sense of wonder and dreaminess, no matter what the season.
The change will be synonymous with the store. While we will always have our latest collections on display, we will embrace change through collaboration with our community and other artists. Our most prominent partnership is with the artist Double XL, who has created a mural of Mr. Paul, which forms our store façade. We also look forward to announcing a curated shoe edit with an international designer and many more partnerships with creators we admire.
Our home in Khan Market will also launch our new sub-brand: Satya Paul home. This collection includes stylish accessories for the table – like table runners and napkins – that feature special embroidery and bold colours. We are enjoying the ways in which these accents make everyday meals just a bit more special. Our new wallpaper collection, which features a range of patterns – from an eye-popping one dedicated to the brand Talking Heads to a more elegant mogra dotted print – is versatile and made for the contemporary modern Indian home and office.
With a great sense of excitement and gratitude, we welcome you in. Come browse the racks, try on things that push your boundaries, or just daydream as you look through our glass ceiling, and into the open sky.