Nanavati Max Hospital, Mumbai conducts Kidney health camp in Valsad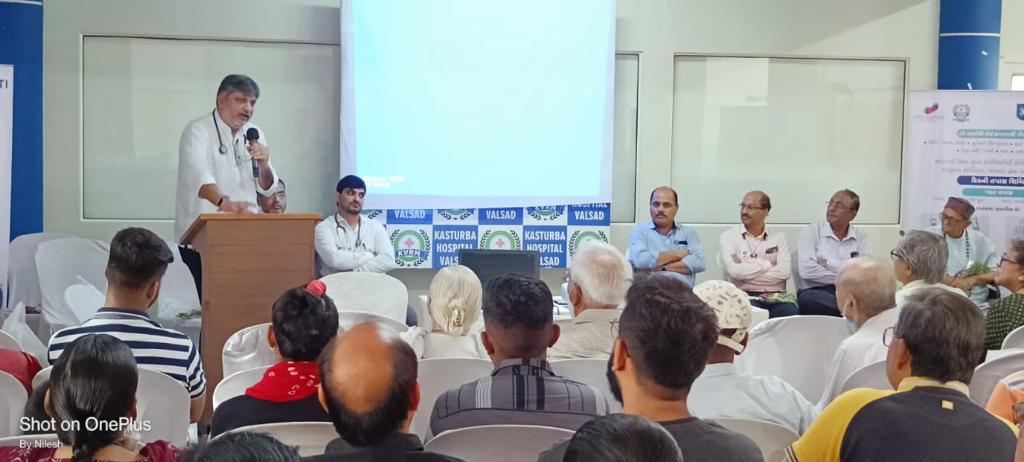 High prevalence of diabetes increases the risk of chronic kidney disease (CKD)
• One in six participants from the kidney camp were diabetic with blood sugar levels over 200mg/dL and one in five were in the pre-diabetic range.
• Experts highlighted the urgent need for awareness and routine health screening (serum creatinine and urine analysis tests) to prevent Chronic Kidney Diseases in Southern Gujarat.
Valsad: In an endeavour to increase awareness about chronic kidney diseases (CKD) and urge the common public about the importance of regular screening, Nanavati Max Super Speciality Hospital, Mumbai, today organised a kidney health surveillance camp in Valsad.
The camp witnessed a participation of over 70 individuals between the age bracket of 5 to 84 years, who were tested free of cost for blood sugar, serum creatinine and routine urine analysis and availed of expert medical consultation based on their diagnostic reports.
India's leading nephrologist, Dr. Jatin Kothari, Director of Nephrology & Chief Consultant, Renal Transplant Medicine, Nanavati Max Hospital spearheaded the camp with noted nephrologist of South Gujarat—Dr. Sagar Jethwa, and renal dietician from Apex Kidney Care -Dialysis network, Ms. Jill Mehta.
Individuals suffering from common symptoms such as swollen ankles or feet, frequent urination, blood in urine, insomnia, loss of appetite, fatigue, lack of focus, or muscle cramps visited the camp for early detection and treatment of CKDs.
Doctors consulted the patients, based on their diagnostic results and also delivered awareness talks on 'Prevention of Kidney Diseases,' 'Chronic Kidney Diseases in India,' and 'Diet for Kidney Care.'
Major findings from the camp were that 70% of the women participants were between 40 to 60 years and 43% of men participants were between 60 to 84 years of age. Of the total participants in the camp, 45 were men and 25 were women. The results reported that 35% of them were in the pre-diabetic and diabetic category with Random Blood Sugar (RBS) ranging between 140 to 420 mg/dL. One-fifth of the participants were found to be in the pre-diabetic range and one-sixth in the diabetic range with RBS over 200 mg/dL. Serum creatinine levels in 43% of men (more than 1.35mg/dL) and 55% of women (more than 1.04 mg/dL) were higher than normal. The camp-based survey also found traces of protein in the urine analysis of 53% of participants—an indication of hampered kidney function.
Talking about the findings at the camp, Dr. Kothari said, "Prevalence of kidney damage indicators is probably high in this cohort, as most participants were aware of their symptoms and disease and were seeking accurate diagnosis and treatment. At the same time, organising such camps is of paramount importance to create awareness about the symptoms, early detection and treatment of CKD. We continue to organise such camps in Gujarat and across India to educate the society about kidney care and diseases, including organ donation and kidney transplantation."
Nanavati Max Institute of Renal Sciences and Transplant is one of the country's busiest and most successful programs to offer all cadaveric and living donor kidney transplant services to paediatric and adult patients. The camp—organised by Nanavati Max Hospital in association with Kasturba Hospital, Apex Kidney Foundation, and supported by Emcure pharmaceuticals marked the initiation of extensive future initiatives to reduce the burden of kidney diseases in Gujarat.