MATTER announces special pre-book offer for electric motorbike AERA, Pre-booking starts from 17th May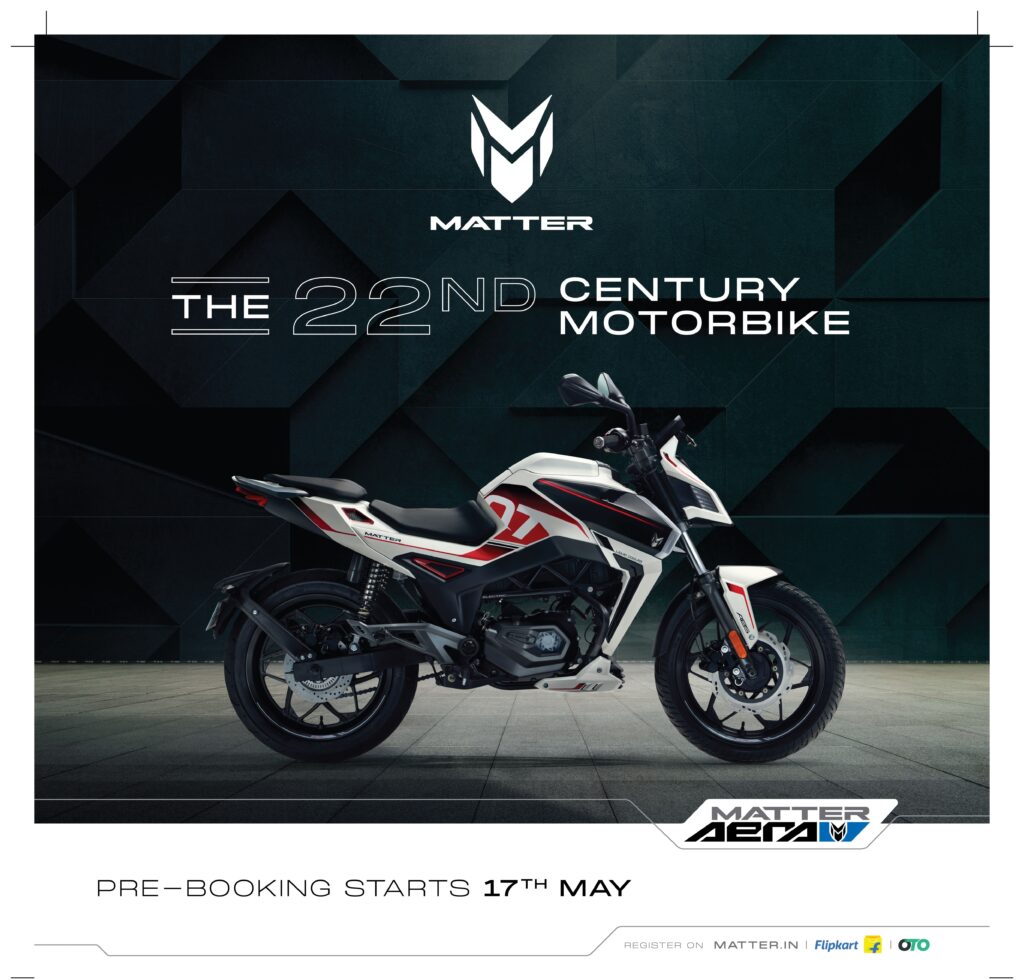 19th May: MATTER, a tech innovation-led start-up, is all set to start the pre-booking for its flagship motorbike, MATTER AERA. The online pre-booking will open on matter.in, flipkart.com, and otocapital.in from May 17th, across 25 districts in the country.
Pre Book Cities: Hyderabad, Vishakhapatnam, Vijayawada, Krishna, Bengaluru, Mysore, Chennai, Coimbatore, Madurai, Mumbai, Navi-Mumbai, Thane, Raigad, Pune, Nagpur, Nasik, Ahmedabad, Gandhinagar, Surat, Vadodara, Jaipur, Indore, Delhi NCR, Patna, Lucknow, Kanpur, Guwahati, Kamrup, Kolkata, Bhubaneshwar, and Kordha.
Through technology and innovations, MATTER AERA is set to change mobility, offering new experiences, and redefining the future of riding. Early adopters and innovators of electric mobility will be able to pre-book the AERA and get benefits such as special introductory prices, early bird offers, and a early bird pre-booking amount
MATTER AERA Pre-bookings will be based on a first-come, first-served basis, and here is how you can pre-book the MATTER AERA. You can pre-book the AERA by visiting matter.in, flipkart.com, or otocapital.in.
If you are visiting matter.in, then follow these steps:
1. Visit matter.in
2. Click on prebook
3. Select your location, preferred variant and colour
4. Provide necessary details and information
5. Pay prebooking amount to complete the prebooking process
*If one wishes to book more than one Aera, up to 2 can be booked from the same phone number
*If you are trying to book for any location other than the mentioned locations, you can reserve your spot to join the waitlist and become the first ones to know when Aera becomes available in your area
The pre-bookings will be followed by test drives offered at Matter Experience Centres near you before the final delivery.
MATTER has roped in Vicky Kaushal as a brand ambassador and it believes that the persona representing the future forward mindset of Indian youth is truly characterised by the award-winning film star Vicky Kaushal. His presentation of the brand will create that wave which will motivate the discerning youth of India to adopt the change
MATTER AERA boasts futuristic design and innovative technology that promise to revolutionise two-wheeler mobility. MATTER AERA is India's first geared EV bike with 4 speed hyper-shift gears, delivering 0 to 60 kmph in under 6 seconds with a super-saving mileage of 25 paise per km.
Equipped with a liquid-cooled battery and powertrain that helps in heat management, avoiding overheating, and improving the performance and life of the battery as well as the powertrain.
125 km of range in one charge with a 5-amp onboard charging system (charge anywhere in India with any 5-amp plug) and Internet-enabled connected experiences with a 7″ touch screen are some of the best benefits customers can experience with MATTER AERA.