KBL receives patent for Dual Voltage Controller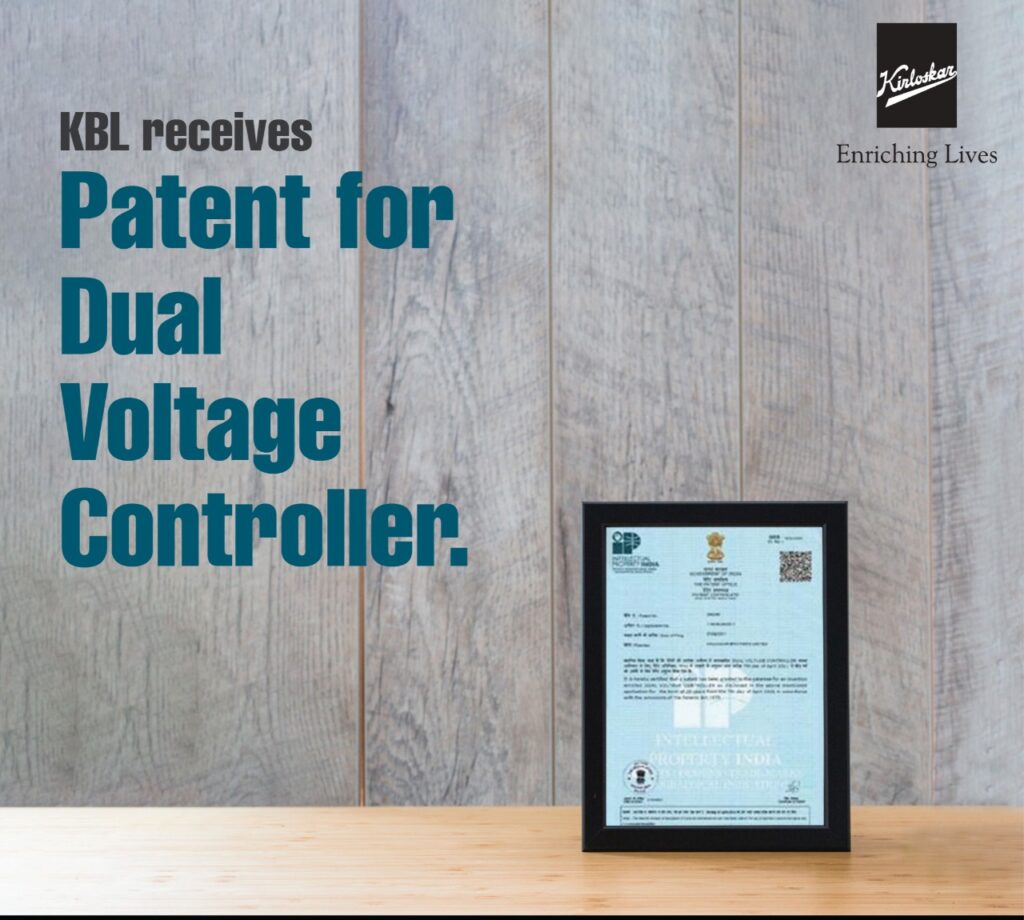 Mumbai, 07 July 2021: Kirloskar Brothers Limited (KBL), which is a world-class pump manufacturing company with expertise in engineering and manufacture of systems for fluid management, is proud to receive a patent for Dual Voltage Controller. This patent gives KBL a sustainable competitive advantage as the device can be used to significantly improve the performance of a pump in areas where voltage fluctuation is an issue.
The Dual Voltage Controller can be compared to a voltage stabilizer that is often used at homes. Similarly, this device is highly recommended for areas where voltage fluctuations are an issue and help in smoothly operating all types of small pumps. Some of KBL's pumps are known to operate in a wide voltage range and can take up specialized tasks with a great level of efficiency.
The latest patent reiterates the company's focus on innovation as a way to continuously provide superior value to the customer. The importance of intellectual property was recognized by visionary leaders of KBL in its initial years of formation itself. In recent years, KBL has filed over 20 patents and has already been granted 7 patents out of those filed patents. All the 20 patents are in working condition and are effectively used in production and used commercially, wherever applicable. This signifies the commitment of KBL to transfer the innovations for the production and pass on benefits to end-users/ customers.
About Kirloskar Brothers Ltd (KBL): KBL was established as Kirloskar Brothers in 1888 from which various group companies emerged later. Kirloskar Brothers Limited was incorporated as a limited liability company on January 15, 1920. A global conglomerate, it provides complete fluid management solutions for large infrastructure projects in the areas of water supply, power plants, building & construction, process industries, irrigation, oil & gas, and marine & defence. It engineers and manufactures industrial, agricultural, and domestic pumps, valves, and hydro turbines. It is also India's largest centrifugal pump manufacturer with eight manufacturing facilities in India along with other international subsidiaries and operations in the Netherlands, South Africa, Thailand, the United Kingdom, and the United States of America. KBL has over 12,000 channel partners in India and 80 overseas and is supported by the best-in-class PAN-India network of authorised service and refurbishment centres.
All manufacturing plants of KBL have the necessary Quality, Environment, Occupational Health & Safety, and Energy standard certifications under the Integrated Management System (ISO 9001:2015, ISO 14001:2015, ISO 45001:2018, and ISO 50001:2018). The company's Kirloskarvadi plant is a state-of-the-art integrated manufacturing facility, which houses Asia's largest hydraulic research centre with a testing facility of up to 5000 kW and 50,000 m3/hr. KBL is the only pump manufacturing company in India and the 9th in the world to be accredited with the N and NPT certification by the American Society of Mechanical Engineers (ASME).