Indian investment banker Shauraya Bhutani makes it to Forbes Asia's 30 Under 30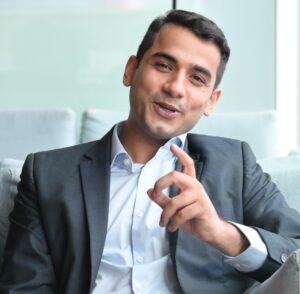 India, May 19, 2023: Shauraya Bhutani, an investment banker from New Delhi and Co-founder of Singapore-based Capital Connect Advisors, has made it to the prestigious Forbes Asia's 30 Under 30 2023 list. This recognition celebrates Shauraya's exceptional achievements in the finance and venture capital industry, further solidifying his status as a rising star.
Shauraya Bhutani operates at the epicentre of tech investment and advisory across two of the world's largest growth markets, Southeast Asia and India. Over the past five years, Bhutani has been actively involved in the vibrant startup ecosystem of Southeast Asia and India, focusing on fundraising and mergers and acquisitions (M&A). Having commenced his career at North Ridge Partners in Singapore, Bhutani's drive to advance the tech startup ecosystem in Southeast Asia led him to step away from his role as the Director of North Ridge Partners and embark on a new path as the co-founder of Capital Connect Advisors, one of the most active tech-focused boutique investment banks, which provides corporate finance, portfolio management, and ecosystem services to leading tech founders and investors in Asia. In 2022, Bhutani co-founded Breathe Capital, an early-stage micro-VC backed by some of the top family offices in India, which invests in cutting-edge seed and Series A technology start-ups.
Commenting on this achievement, Shauraya Bhutani, Co-founder of Capital Connect Advisors, said, "I am deeply honoured to be included in Forbes 30 Under 30 Asia list. This is a wonderful recognition, not just for me but also for my colleagues and founders who have backed me unconditionally through my journey. I am committed to advancing Asia's tech ecosystem and delivering successful outcomes for my fellow entrepreneurs and investors."
Bhutani has been working alongside companies since the early days of the technology wave in Singapore and has built extensive deal experience, network, and industry expertise working with over 50 technology companies across retail, fintech, edtech, digital media, healthtech, software, and IoT amongst others.
He has helped deliver over 20 capital raising and M&A transactions for technology companies across Southeast Asia and India. Earlier, in 2021, Bhutani was involved in the trade sale of Bizzy Digital to Warung Pintar in Indonesia. Among his other notable transactions feature Fabelio's $10 million Series C fundraise in 2020 and the 2019 merger between Vimo and mPos, which led to the formation of Vietnam's NextPay. These significant transactions highlight Bhutani's deep involvement in strategic collaborations within the business landscape of Southeast Asia.
Besides being named in Forbes' 30 Under 30 Asia list in 2023, Bhutani has been recognized as one of the top 50 emerging thought leaders of the tech startup ecosystem in Southeast Asia by e27 and has been featured in Business Times, e27, YourStory, Entrepreneur Magazine, The Financial Express, Inc42, and TechInAsia, to name a few. He released Southeast Asia's first YC-style fundraising playbook for founders, co-published with e27 and covered in the Masters of Cashflow Podcast.