Captain Cool MS Dhoni has been compared to The Family Man 2's Chellam Sir by AIO Games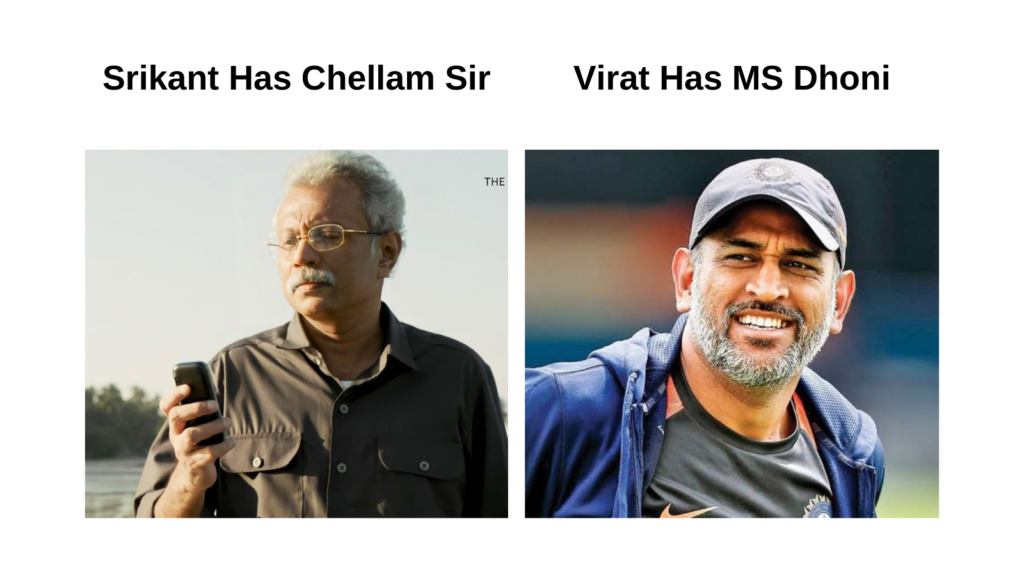 Season 2 of "The Family Man" has taken the internet by storm. Many fans have been captivated by the character of Chellam Sir, a retired member from NIA, who seems to know everything and can be referred to as a 'walking encyclopedia.' Srikant Tiwari, portrayed by Manoj Bajpayee, continually approaches Chellam Sir whenever he faces a roadblock in his investigations and is always provided with the best solutions.
The internet has been flooded with memes and discussions about the most loved character of the show, who surprisingly won the hearts of many fans within a short time.
AIO Games, a fantasy cricket app, took to Twitter to compare the character of Chellam Sir to MS Dhoni. Highlighting the vast knowledge and intelligence of the two, the viral tweet implies that MS Dhoni is the ultimate helping hand for Virat Kohli, just as Chellam Sir is the go-to person for Srikant Tiwari.
Captioned 'When in doubt, ask the expert!' the brand's tweet is a witty take on the viral trend, proving that there is no end to creativity when it comes to memes!
AIO Games is a fantasy game app offering a wide range of iconic games, ranging from Poker to Fantasy Cricket. It is the ultimate destination for people to win real cash while playing games online with friends!  
Post Link: https://www.instagram.com/p/CP2jEQthe8p/
Post Link: https://twitter.com/games_aio/status/1401953713581817857