Hyderabad to host a 3-day colourful cultural extravaganza, Rashtriya Sanskriti Mahotsav from April 1st at NTR Stadium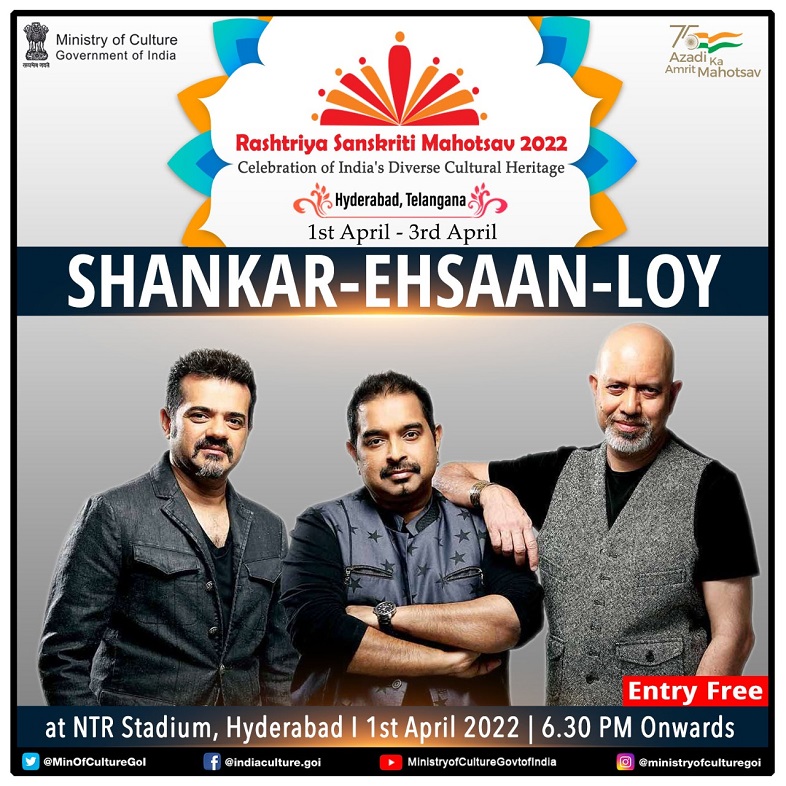 Hyderabad, March 31st, 2022: Hyderabad is all set to host the biggest and most colourful cultural extravaganza in the recent past, Rashtriya Sanskriti Mahotsav (RSM) 2022, the National Cultural Festival of India, under the auspices of the Ministry of Culture, Government of India, from April 1st to 3rd, 2022 at the NTR stadium, Hyderabad. The entry to the event for the general public is free on all three days and the extended weekend with Ugadi festival will be well spent by immersing in dance and musical treat presented by artists from across India.
The three days mega cultural festival will be inaugurated by the Chief Guest and Hon'ble Vice-President of India, Sri. Venkaiah Naidu on April 1st, 2022 at 5.30 pm. Smt. Tamilisai Soundararajan, Hon'ble Governor of Telangana; will inaugurate the craft and food exhibition earlier in the day at 10.00 am on April 1st, 2022. Prior to Hyderabad, the Rashtriya Sanskriti Mahotsav 2022, was organised at Rajamahendravaram, Andhra Pradesh on March 26th and 27th, 2022, later at Warangal in Telangana on March 29th and 30th, 2022.
Over one thousand artists from different parts of the country and different traditions including Classical, Folk and Popular culture traditions, will perform in this unique celebration of India's culture, craft, cuisine, coinciding with the new year festivities of Telugu's, the Ugadi. The three days will witness live performances by classical music and dance maestros, mesmerizing the audience. The live performances on April 1st, 2022, are by Padma Shri Ananda Shankar Jayant, presenting a Classical Dance Performance followed by Shankar Mahadevan-Ehsaan-Loy' s music performance; on day two Classical music performance by "Taal India'' by Banyan Tree, followed by music performance by Sri S.S. Thaman and on Sunday 3rd April, Smt. Jayaprabha Menon will present a Classical Dance performance, followed by Dr. L. Subramaniam and Kavitha Krishnamurthy's music Performance.
The Rashtriya Sanskriti Mahotsav is the flagship festival of the Ministry of Culture, that aims to preserve, promote, and popularise Indian Heritage. The RSM has been organised since 2015 with the active participation of Seven Zonal Culture Centres (ZCCs) and has been playing a pivotal role in taking India's vibrant cultural diversity out to the masses instead of confining it to auditoria and galleries. RSM has been instrumental in showcasing the 3Cs of our heritage – Culture, Craft and Cuisine of one state in other state reinforcing the cherished goal of "Ek Bharat Shreshtha Bharat". At the same time, the folk and tribal art, dance, music, cuisines & culture that are being demonstrated provide an effective platform for the artists and artisans to support their livelihood.
The program details for the three days are as follows:
1st April, 2022
5:30 PM – 6:30 PM Inaugural Programme
6:30 PM – 7:00 PM Performances by Local Artists
7:00 PM – 7:45 PM Choreographed Folk Performances
8:00 PM – 8:45 PM Classical Dance Performance by Padma Shri Ananda Shankar Jayant
9:00 PM – 10:30 PM Music Performance by Shankar-Ehsaan-Loy
2nd April, 2022
5:30 PM – 6:30 Inaugural Programme
6:30 PM – 7:00 PM Performances by Local Artists
7:00 PM – 7:45 PM Choreographed Folk Performances
8:00 PM – 8:45 PM Classical Music Performance ''Taal India'' by Banyan Tree
9:00 PM – 10:30 PM Music Performance by S. Thaman
3rd April, 2022
5:30 PM – 6:30 Inaugural Programme
6:30 PM – 7:00 PM Performances by Local Artists
7:00 PM – 7:45 PM Choreographed Folk Performances
8:00 PM – 8:45 PM Classical Dance Performance by Smt. Jayaprabha Menon
9:00 PM – 10:30 PM Music Performance by Padma Shri Dr. L. Subramaniam & Padma Shri Kavitha Krishnamurthy