Atmanirbhar Gram Swasthya Project to nurture Health and Self-Reliance in children in the tribal belts of Palghar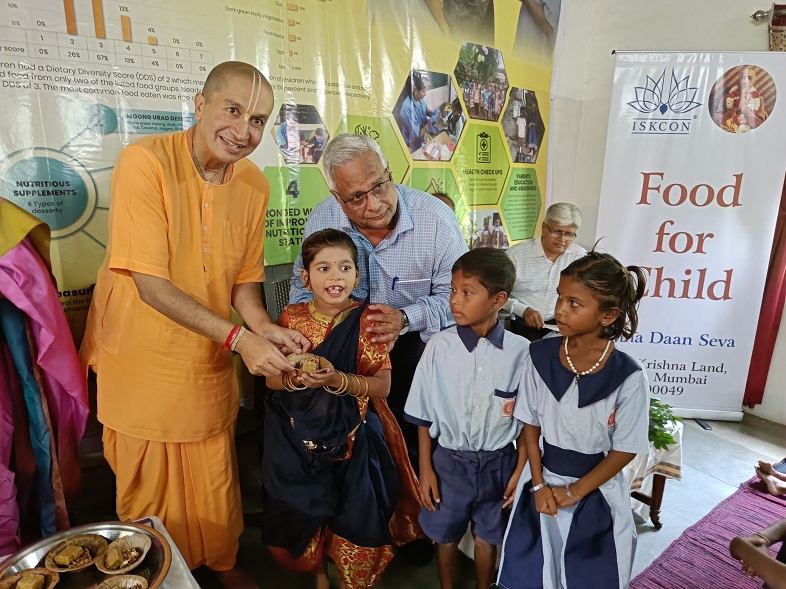 Palghar, Maharashtra, September 6, 2023: The Atmanirbhar Gram Swasthya Project, a collaborative effort between Keshav Srushti, Palghar District Health Authorities, ISKCON Govardhan Annakshetra and ISKCON Food for Child, was officially inaugurated on 5th September at Pimplas Village under Wada Tehsil. This groundbreaking initiative aims to combat child malnutrition and nurture health and self-reliance in children residing in the tribal belts of Palghar.
Child malnutrition is a persistent concern in tribal regions across India, primarily due to the limited access to a Minimum Diversified Diet (MDD) for children. The Atmanirbhar Gram Swasthya Project has introduced the 'Star Health Grade Cards Project,' which monitors the growth and nutritional status of children aged 5 to 15 in Palghar's tribal areas. The ongoing project will ensure regular access to MDD, conduct awareness programs, and offer routine health check-ups to enhance the nutritional well-being and overall health of children, empowering them toward self-reliance.
The inauguration ceremony witnessed the participation of approximately 60 MSK students from both Pimplas and Katkari Pada, alongside several dignitaries. Notable figures in attendance included Dr. Santosh Choudhari, the District Health Officer of Palghar, Dr. Shrikant Kulkarni, ADHO Wada and Vikramgarh, Shri Bimal Kedia, the Head of Keshav Srushti Gram Vikas Projects, Dr. Milind Chavan, ADHO of the District Tuberculosis Department in Palghar, Dr. Suresh Saravdekar, Honorary Consultant Institute of Medical Sciences, BHU and Head Gram Swasthya , Gauranga Das Prabhu Ji, the GBC of ISKCON and Director of Govardhan Ecovillage, Mukund Madhav Das, Vice President of ISKCON Juhu and Mrs. Harneet Hariharan, the CEO of Govardhan Annakshetra.
During the event, children were given four different types of nutritional desserts as part of the inauguration. These included Moong Urad Barfi, Gehu Nachni Barfi, Sengdana Khajur Barfi, and Navratna Barfi. As part of the initiative, students will continue to receive two different types of desserts every day for two months to help them meet their nutritional needs. These desserts will be made from healthy ingredients like Green Gram Beans, Red Millets, Black Lentils, Split Chickpeas, Dates, Groundnuts, and Ghee, ensuring they get the right nourishment.
Talking about the initiative, Gauranga Das Prabhu Ji, GBC – ISKCON & Director – Govardhan Ecovillage, said, "Child malnutrition and anemia remains a critical issue in the tribal belts across India due to children lacking access to Minimum Diversified Diet (MDD). The Star Health Grade Project was designed to address this issue prevalent amongst children in the tribal belt under the Palghar district and improve their nutritional status and health growth indicators. This all-round initiative will not only provide comprehensive health monitoring to the children but also train and empower communities to be self-reliant and take ownership of their health and well-being. Through this project, we seek to establish a long-term behavior change."
The Atmanirbhar Gram Swasthya Project will operate in collaboration with the Palghar District Health authorities, under the auspices of the Public Health Care Services of Maharashtra State. The initial phase encompasses 30 villages in Palghar District's tribal belt, with plans for expansion into an additional 50 villages after successful implementation.
The project's objectives include improving the nutritional health of children aged 5 to 15 in the district's tribal regions, raising awareness, educating parents and children about the importance of a Minimum Diversified Diet and maintaining star health grades. It also provides MDD and iron-folic tablets to combat malnutrition and anemia while implementing sustainable behavior change programs to encourage healthy eating habits and ensure consistent growth in children.
"I would also like to express my gratitude to Mukunda Madhava Prabhu, Vice President of ISKCON Juhu for supporting this very crucial intervention on behalf of ISKCON Food For Child program which will transform Palghar physically and spiritually by inculcating deep values based on ancient wisdom." added Gauranga Das Prabhu Ji
The Atmanirbhar Gram Swasthya Project represents a significant step forward in addressing child malnutrition and promoting self-reliance in the tribal areas of Palghar District. It underscores the commitment of all partners involved to improve the lives and futures of children in these underserved communities.