Aadyam Theatre's Next 'As Bees in Honey Drown' Brings to Life a Whimsical Fable of Facades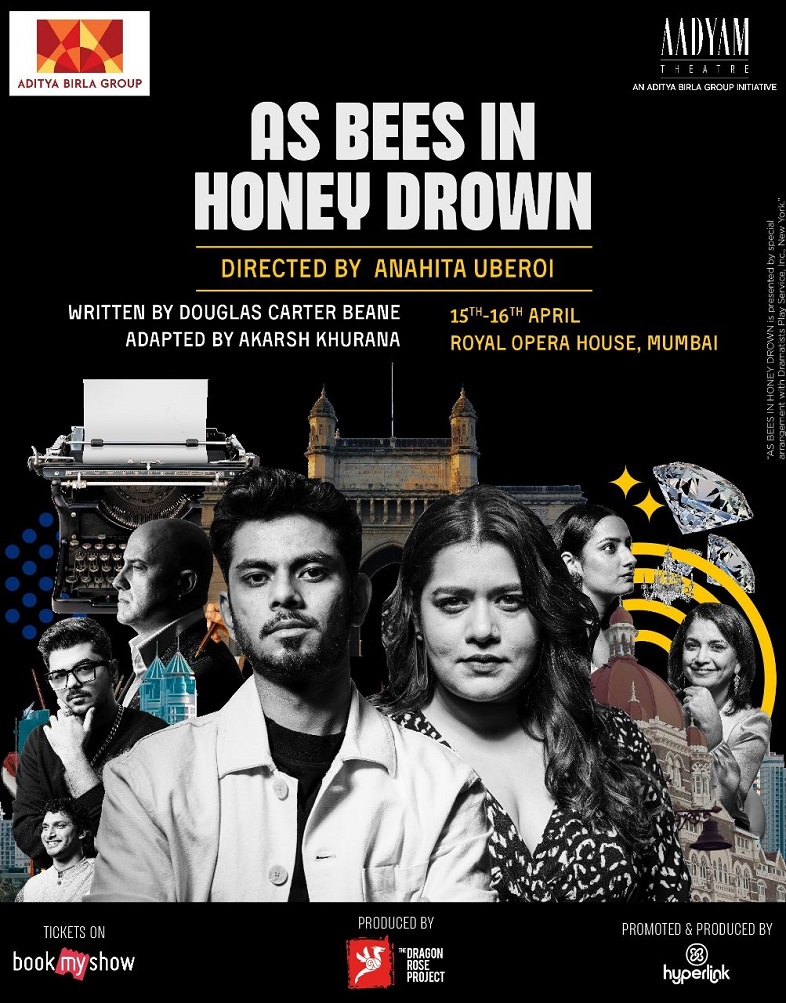 Mumbai, March 2023: Aadyam Theatre, an Aditya Birla Group initiative, presents its latest production, 'As Bees In Honey Drown', an adaptation of Douglas Carter Beane's award-winning theatre play – a hilarious and thought-provoking satire on contemporary culture. Adapted by Akarsh Khurrana and directed by Anahita Uberoi, the play promises to tickle your funny bone while exploring themes of deceit, betrayal, artistic ambition, and the power of illusion.
Almost famous author Dhruv captures the attention of Alexa, a popular socialist who has made the world of celebrity her home. While she claims to be a music record producer, what is clear is that she wants Dhruv to write the screenplay of her life story. "Just spend time with me", she says, "and you'll learn all you need to know." To Dhruv, her outsized persona is thrillingly alluring.
Director Anahita Uberoi delivers this clever and witty production that lampoons our society's obsession with fame and triumph and does so with humor and wit. As the director, herself puts it, "This play is a social satire, a dark comedy based on a fable of facades that will captivate your mind from the moment the drapes are lifted."
The phrase "As Bees in Honey Drown" is an expression used to describe a state of complete absorption or surrender to something pleasurable, much like how bees can become so absorbed in honey that they drown in it. Fame, like honey, can give one a rush of sweet pleasure, while it can also drown one with its stickiness. This contemporary satire portrays an unquenchable thirst for fame and startling revelations as the play progresses, making it remarkably relevant to today's trends.
The play features a stellar cast of proficient actors, including Ashwin Mushran, Shikha Talsania, Aditya Rawal, Tavish Bhattacharya, Meher Acharia Dar, and others who do complete justice to the original adaptation.
Enunciating her experience with creating a play for the theatre, Director, Anahita Uberoi said, "I find the relationship between any kind of art and commercial success fascinating. Now, more than ever, everything is about image and perceived success and everyone is looking for the next hot personality to "follow". This play is a delightful delve into the journey of a star-maker whose muse is a young writer, who she promises to make into the next best phenomenon."
Ira Dubey, a Curator committee, stated, "Aadyam is delighted to bring you this fabulous and witty piece set in the world of entertainment with a captivating woman at its center! With a production comprising three powerhouse women, director Anahita Uberoi, producer Devika Shahani and actress Shikha Talsania, along with Aditya Rawal and Tavish Bhattacharya in a wonderful cast, adapted cleverly & boldly by Akarsh Khurana who knows the pulse of urban India unlike any other, AS BEES IN HONEY DROWN is instantly recognizable to Indian audiences for its racy and aspirational world of glamour, success and seduction, an exciting and unforgettable look at showbiz, a heady ride that will leave audiences wanting more."