JIS University Celebrates its 3rd Convocation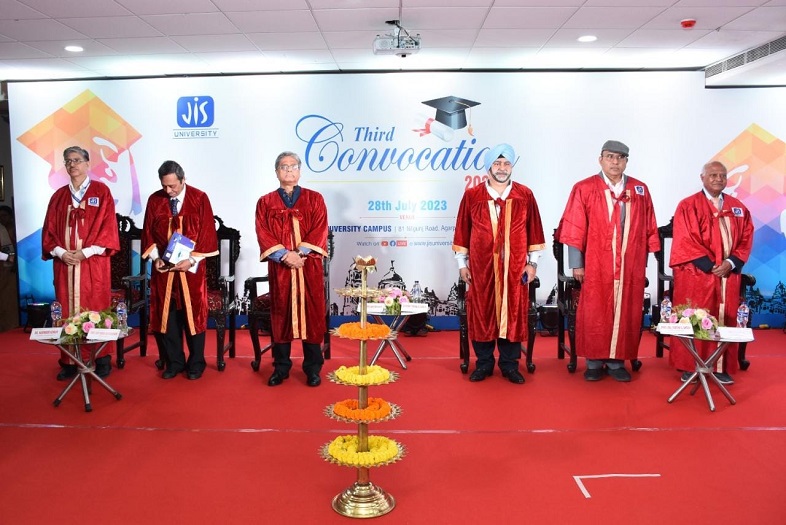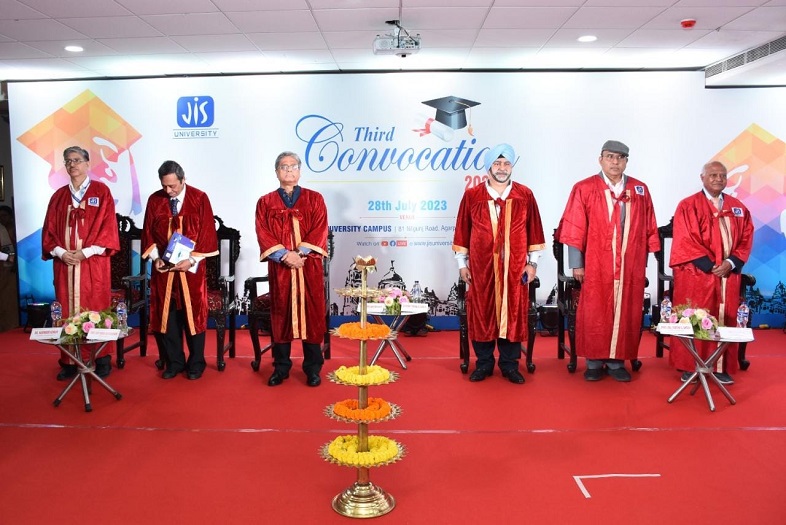 Kolkata, 29th July, 2023: JIS University organised its 3rd Grand Convocation, a momentous occasion, to celebrate the academic excellence and accomplishments of its graduating students, with a record-breaking placement of its students in some of the biggest Global IT companies.
The ceremony was inaugurated by Sardar Taranjit Singh, Honourable Chancellor of JIS University and Managing Director of JIS Group, organised at the NIT-JIS University Campus. Distinguished dignitaries comprising of Prof. Arup Kumar Raychaudhuri, SERB Distinguished Fellow; Prof. Partha S. Ghosh, Professor of Practice at Tufts University, U.S.A and Prof G.L. Dutta Prof Emeritus, IIT Kharagpur, Policy Advisor, Governing Body Member,JIS group were present on the occasion. The convocation report was presented by Prof. Bhabes Bhattacharya, Honourable Vice-Chancellor of JIS University.
The convocation ceremony honoured students from various Departments of JIS University, including the School of Engineering, School of Management Studies, School of Pharmaceutical Technology, School of Sciences, School of Education, School of Juridical Science, School of Hospitality & Hotel Administration, and JIS Institute for Advanced Studies & Research (JISIASR). This year, a total of 1028 students were conferred Degrees and Diplomas at various levels. 693 students received their UG Degrees, 228 PG Degrees, 102 Diplomas, and 5 Ph.D. degrees. The outstanding academic performance of 40 students was recognised by conferring them with gold medals, 30 students were awarded silver medals, and 22 graduates received bronze medals for their exceptional achievements.
Despite the challenges posed by the post-pandemic situation and its impact on the economy, the students of JIS University have showcased their resilience and dedication, securing placements in renowned organisations. Notable Global IT companies like TCS, Wipro, Zifo R&D, Accenture, Capgemini, Dr. Reddy's Laboratories, Tech Mahindra, Mindtree, Dabur, IndusInd Bank, Hexaware, CyberTech, Lupin, Himalaya Wellness, Edward Food Research Analysis Centre, Prism Johnson Ltd., CTS, Bharat Serum & Vaccines, Raptakos, Macleods, and many others have recognised the potential of the students and have hired them.
Aman Giri (B.Tech-CSE) has achieved the highest offer of 18 LPA with Josh Technologies, setting an exemplary benchmark for success.
Speaking on the occasion, Sardar Taranjit Singh, Honourable Chancellor of JIS University and Managing Director, JIS Group said, "At JIS University, we take immense pride in the achievements of our graduating students, who have demonstrated remarkable perseverance and dedication. Despite the challenges posed by the post-pandemic situation, our students have excelled in their academic pursuits and secured placements in prestigious organisations. As they step into the next phase of their lives, we are confident that they will continue to shine brightly and excel in their careers. Heartfelt congratulations to the class of 2023! The world awaits their brilliance."