With over 2crore adopted dogs in India, Pet industry is emerging big in the city…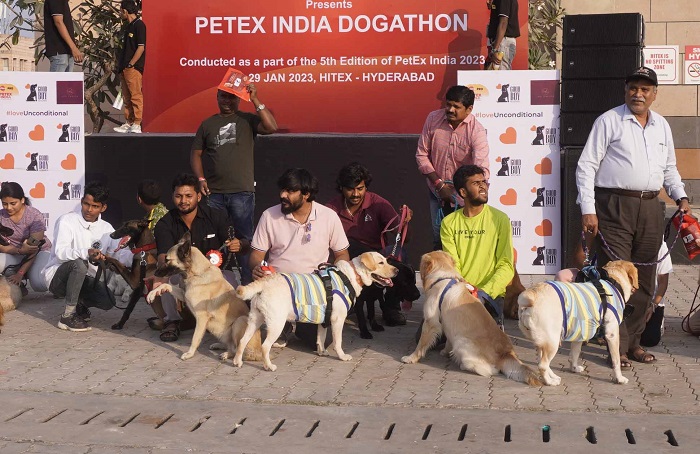 Hyderabad, January 2023….The 4th Edition of Petex India, the biggest ever Pet Industry expo is drawing a huge crowd. India with over 2 crore adopted dogs and the pet ownership continues to increase, more pet parents want to explore more new things for their furry friends. On Saturday alone well over 10,000 pet lovers visited Petex India along with their family members.
The Petex Show is full of hi-end products for pets. As Pet adoption has exploded since the pandemic, more and more people have adopted pets. So also the market is flooded with more pet friendly products and services. It also gave birth to more PetPreneurs, DogPreneurs. Because of the demand for more pet products, more and more startups are getting into the space with high-end products, which are now going as mainstream products.
No matter what the product is and how costly it is: if it makes our pets happier, we are happy to buy them, said Sonali, one of the pet parents who visited the Petex on Saturday..Some of these products are relatively expensive luxury products.
For example, Felica Lounge. You are welcome to hang out with or without your pet. However, we would prefer your pet over you! says its founder Hema. They have set it up in half acre land, spread over 28000 sft, and was set at an investment of Rs 2.5 crore in Madhapur. They have a swimming pool for pets. They plan to open a human bar in their facility, so that patrons can enjoy beverages while their pets socialise. They have acquired a good number of customers in just four months of their launch. They are planning to expand to other metros They also organise Dog breed meetups.
Paw Kingdom has air-conditioning, one of the biggest pet boarding facilities. Campaign Tails organise dog games. They organise a campfire with fur babies by their side. Just Green provides doorstep pet grooming. They have a luxury Pet Spa and Salon. They have 11 mobile vans and highly trained staff. Pet grooming is emerging as the most sought after profession. Birdies provides a balanced diet for all pet 7 foster birds.
Pawsitive Kennels & Pet Resort, which has the biggest dog kennel and pet resort in Hyderabad and spread over 3.5 acre, provides boarding, training, behaviour and pet resort. It provides agility, Hygiene, pet cafe, pet salon, vet on call, healthy walks, swimming pool, AC and non-AC Kennels.
Canines Coach is also worth talking about. It is an institute for professional dog training. A pet owner can get their dog trained for obedience and behaviour modification. They run a basic obedience course, where the dog is made to follow the pet parents commandes happily. The program helps parents to establish a strong bond and communication set up with the dog. Some of the commands taught here are Heel Walk, Stop, Sit, Stay, Stand, Come, Heel Position, Feeding Discipline etc.
There are many cloud kitchens that are set up to deliver freshly cooked veg and non-vegetarian food to dogs. So the pet industry is evolving into a very big industry, as a startup at Petex. Pet insurance is another booming business, adds another startup. The Hyderabad city is home to some 5000 plus Pet Entrepreneurs, said an industry insider.
Hycan 2023, the 3rd International Dog Show has begun in full swing with over 500 dogs of 50 different breeds participating in it.
The Indian Cat Federation held the International Cat Show. It featured 120+ cats which were judged by two International Judges from Turkey & Latvia. Among 120 cats, few, 20 of them were rare. And one of them was Toyger, a rare cat breed. According to Shahab Ali of Aslans who is also associated with Royal Deccan Cat Club in the city and one of the exhibitors, Toyger is so rare that only two female breed cats exist in India. And Hyderabad based Aslans own both of them. According to him, this is a man made breed. It is a miniature tiger. It looks like a tiger. In the international market it commands anywhere between 8 to 10 lakhs he said.
Exotica, one of the exhibitors displayed Chili Red Arowana Fish, one of the most appealing and eye-getting assortments of fishes. According to Mr. Guptha of Exotica, they imported it from Indonesia. This fish is acquired from uncommon spots of nature. Two customers own these fish in the city. The fish is named Chili Red Arowana as its particularly normal crisp red shading which is shining makes it more beautiful for the aquariums and pools, Guptha added. These chili Red Arowanas have an exceptionally enormous mouth which is the principal focal point of consideration for these fishes when they relax. This is one of the few varieties of fishes eligible for pet insurance. The fish that is on display is 10 inches and when it grows to 2.5 feet, the cost will run into several lakhs.
Dogathon, a mini-marathon held for pet dogs with their parents. Sixty plus pets and their owners registered and participated in the 1.5km long marathon. It was a mini-run in which the pet parents made their pets run/walk like how humans run/walk in a marathon.