There are plenty of opportunities startups can explore in the Water Sector: Union Jalshkathi Minister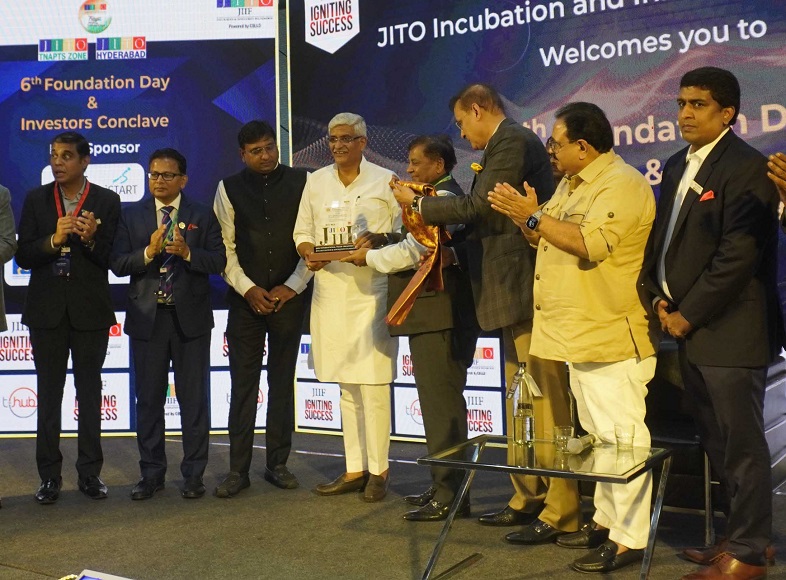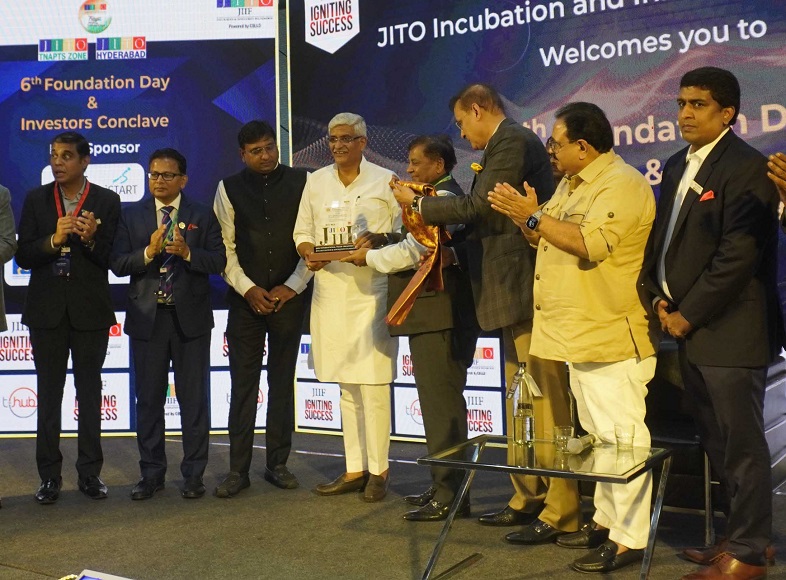 Hyderabad, July 17, 2023… There are plenty of opportunities startups can explore in the water sector, said Mr Gajendra Singh Shekhawat, Union Minister for the Department of Water Resources, River Development and Ganga Rejuvenation. He was addressing JITO Incubation and Innovation Foundation (JIIF)'s two investors conclave and founders' day at T-Hub at Madhapur on Sunday.
Unlike popularly believed, the Agricultural Sector consumes more water in India than the domestic and industrial sectors. Agriculture has a greater consumption share of water in India. It accounts for approximately 90% of the 771,000 billion litres of annual freshwater withdrawals in the country. The per capita consumption of water in the agriculture sector ranges from 4,913 to 5,800 kilolitres per capita per year. This is much more than in other countries, he said.
Our water is considered to be the least productive. India does not spend any money on conserving water consumed in agriculture. Surprisingly, water conservation takes place in the industry and utility sectors, both of which consume less than 5% of the nation's water. Not much attention is paid to conserving water in the agri sector. This is where we need private sector help. This is where we need startups. We need startups to help in precision agriculture. We need their intervention in helping the Agri sector save water, the Jalshakthi Minister said.
Precision agriculture deals with improving crop yields and assisting management, and water conservation using high-technology sensor and analysis tools. It is the concept in vogue throughout the world to increase production, reduce labour time, and ensure the effective management of fertilizers and irrigation processes. There is a huge opportunity available for startups in this space, he told 400 plus gatherings of Jain Startups, Entrepreneurs, and Investors drawn from across India and abroad. The conference was organised by JITO Hyderabad Chapter in collaboration with TNAPTS Zone.
The Ministry is also looking for startups to develop a business model for reusing sewage water. Emphasising the importance of recycled wastewater in agriculture, horticulture and groundwater recharge, Union Jal Shakti Minister Gajendra Singh Shekhawat said startups can play a big role in this area too.
Speaking further the Minister said if you want to go for Blood Testing, you know where to go. We have facilities to test blood easily but not the water. But do you know where to go to test the quality of your drinking water? We don't know. No one knows where to test the water. The country doesn't have any water testing protocols.
The ministry has set up nearly 2000 NABL Accredited water testing labs in India. NABL is the National Accreditation Board for Testing and Calibration Laboratories. Our vision is to have one testing facility in every district. The water quality tests will be done on 12 parameters such as Hardness, pH, Copper, Iron, Phosphate, Chlorine, Ammonia, Chromium and others. Like COWIN the findings of such water tests are available at one source called WQMIS(The Water Quality Information Management System), which will ensure that any adverse test report will be automatically flagged up to the authorities. The system will work the way COWIN worked for COVID
Besides this, Startups have helped us develop Field Testing Kit for field use. 19 lakh women were trained in this and 1.5 crore samples were collected and tested, he informed.
We have also conducted hackathons for startups to come up with solutions for sensor-based drinking water testing. 250 startups applied, 20 were short-listed and two went commercial with their solutions. Government alone can't do many things. We need help from JIIF and similar organisations. India invested more in the water sector, he said.
The Government of India is committed to investing more than 240 billion dollars in the water sector and is implementing the largest dam rehabilitation programme in the world as well as efforts to restore groundwater level, river rejuvenation, river connectivity, and many such world's biggest projects, Union Minister of Jal Shakti Gajendra Singh Shekhawat told the audience.
Conserving water, harvesting it, using it rationally and recycling water should be the message to be spread across the country.