TCL Launches its New Range of Washing Machines with Digital Display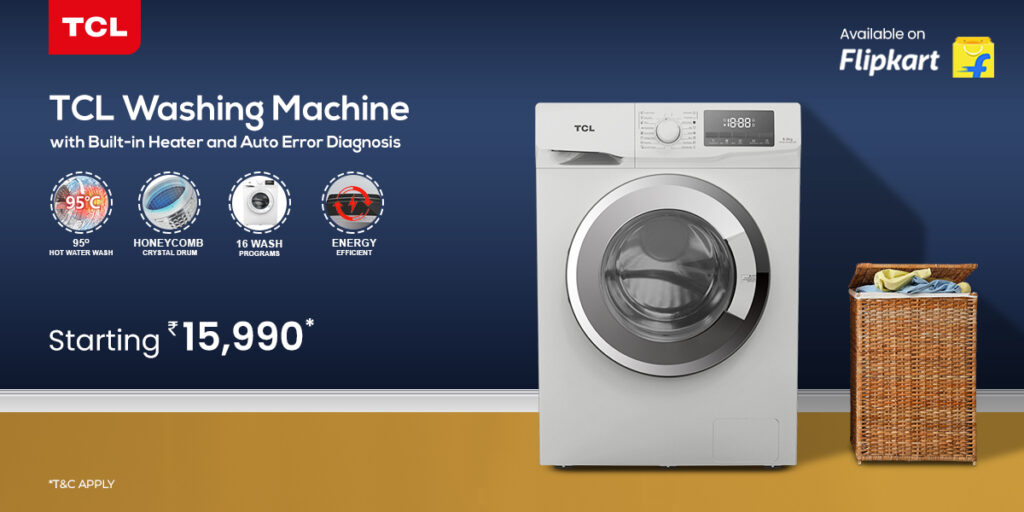 [Delhi, 22nd July 2021]: TCL Electronics, one of the leading and fast-growing players in the global consumer electronics segment, today launched its new range of washing machines on Flipkart. As a brand working to bring innovation and technology together, TCL's range of washing machines is designed to deliver an exceptional laundry experience. The TCL's new range of washing machines is available in three colours and sizes with the starting price of Rs. 15,990.
"TCL over the years has been committed to delivering the best in class technology coupled with innovation and design thinking. With the exciting momentum-driven over the years, now is the perfect time to introduce TCL's new range of washing machines on a leading e-commerce platform," said [Mike Chen],[Country Manager, TCL India]." We believe that our range of washing machines will make the entire laundry process easier for our consumers."
TCL Range of Washing Machines
Designed for the ever-evolving Indian consumers this new range of washing machines from TCL comes with Auto Error Diagnosis Technology that automatically detects the error and displays the possible causes and rectification method.
The Digital Display makes it easy for the consumers to understand and set wash timers. This is also helpful when the user wishes to delay his laundry and run it at the desired time.
TCL's new range of washing machines comes with ERP A+++ rating which means that the machine is highly energy-efficient and can take care of all your laundry needs without burning a hole in your pocket.
The unique Honeycomb structure of the washing drum treats your delicate fabrics with optimum care. The Honeycomb drum creates a thin layer of water between the laundry and the drum that allows the laundry to glide gently over this layer and protect the fibers of your fabrics.
One of the major issues that the consumer face while using the washing machine is cleaning the drum due to the scaling effect. TCL's new range of washing machines comes with Auto Drum Clean Technology that will forever eliminate the hassle of cleaning the drum. Also, a dual detergent case helps customers to choose any type of detergent with the machine.
TCL Washing Machine Product Lineup
Here is the product lineup of the new range of washing machines from TCL:
Front Load- 7kg- Available in White and Silver Colour
Front Load- 8kg- Available in White and Silver Colour
Top Load- 8.5kg- Available in White and Grey Colour
Key features include:
ERP A+++ Rating
Honeycomb Crystal Drum
Auto Drum Clean Technology
Digital Display
Dual Detergent Case
Auto Error Diagnosis