Stimulating growth for Real Estate Investment in Mumbai through the pivotal transformational Budget 2023-24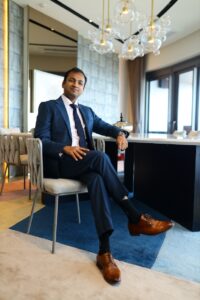 Mr. Harshvardhan Tibrewala, Director at Roha Realty.
The Union Budget 2023–24 is progressive and focuses on improving the nation's infrastructure. India is predicted to develop at a robust 7 percent this year compared to other major economies. The Indian economy has advanced from the tenth to the fifth largest in the world. In just 9 years, the per-capita income has doubled to Rs 1.97 lakh.
The new policies would encourage the development of physical infrastructures such as roads, railways, urban corridors, industrial clusters, and aviation. It may have a multiplier effect on the economy as a whole, the growth of jobs, the blossoming of entrepreneurial ecosystems, and an increase in income levels generally. The benefits of such a significant change will extend beyond housing to include commercial, warehouse, retail, and other types of Real Estate in India.
The Government's unwavering focus on sustainability and infrastructure will fuel real estate Investment in Mumbai this year. Sustainability was a significant focus in the Budget, with viability gap funding for battery storage, renewable energy, green credit policy, and incentives for further growth as substantial initiatives to sustain green growth and achieve a net zero emission.
The pandemic has also encouraged positive sentiments toward real estate Investment in Mumbai. Real estate is a moderately safer investment option than other assets like stock markets and crypto. People are more willing to invest in secure investments like real estate after surviving a pandemic marked by severe financial losses.
Strong economic push through Investments
The economy will see a considerable boost, and more job opportunities will be made possible by a rise in capital spending on infrastructure investment of 33 percent, or Rs 10 lakh crore for 2023–2024 (or 3.3 percent of GDP). It suggests increased retail, residential, and commercial construction for tier II and tier III cities.
Enhanced disposable income
The amount of money that people have available to them will increase with a considerable increase in the allocation to capex combined with incentives for taxpayers to choose alternative tax regimes with comparably lower rates. Consumption and spending will rise, driving up housing demand and residential Real Estate Investment in Mumbai.
Promotes affordable housing
The allocation of Rs 79,000 crore under the Pradhan Mantri Awas Yojana (PMAY), increasing it by 66%, was welcome news for the real estate industry. It will serve as an additional boost to the Government's housing assistance program for poor urban people. The Budget relies on a strengthening domestic demand and governmental investments to boost growth across the board, from unification malls to roads and highways to affordable housing.
Establish air connectivity
To increase regional aviation connectivity, 50 more airports, heliports, water aerodromes, and advanced landing fields will be revived as a well-planned and forward-looking step. Around the suggested sites, land values could increase, raising the value of nearby properties.
Drive toward Smart Cities
Multiple Indian cities could be transformed by a new program to create "sustainable cities of tomorrow" and a substantial allocation of Rs 16,000 crores, boosting their quality of life and providing integrated infrastructure, mobility, and urban sustainability. These cities can eventually increase their real estate potential as a result.
Sanitisation of real estate investment in Mumbai
FM suggested that the maximum amount that can be deducted from capital gains on investments in residential property under sections 54 and 54F is 10 crores. The income tax exemption for premiums from pricey insurance policies was also lowered. FM also recommended expanding the definition of capital gains to include funds received as a check or other payment when calculating capital gains in joint property development scenarios.
Real Estate to support India's positive growth story
The real estate sector has received critical support and incentives according to the Union Budget 2023. The Government has made several announcements to encourage investment and economic expansion. The announcements emphasising startups, MSMEs, and other initiatives will stimulate the economy and begin the rebuilding process. The emphasis on infrastructure and employment growth will indirectly boost the real estate industry. The comment about simplified corporate procedures and government permissions was the most critical lesson for real Estate.
Overall, the FM has presented a growth-oriented budget focusing on investments that will support India's long-term growth story and help create employment opportunities for the broader section of society.