M3M Foundation's Payal Kanodia Honoured with CSR Person of the Year Award by India CSR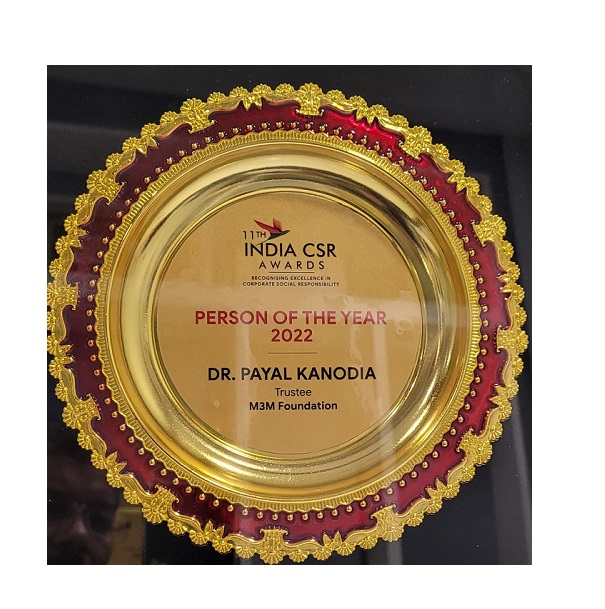 New Delhi, December 2022: Dr. Payal Kanodia, Trustee of the M3M Foundation, has received the prestigious CSR Person of the Year award for her leadership in the CSR/Social Development field and her unwavering efforts to assist the underprivileged through the M3M Foundation. The award was bestowed on her at the 11th edition of the prestigious India CSR Awards, which recognize excellence in corporate social responsibility by India CSR, India's largest CSR Media Company. A grand ceremony was organized by the India CSR team at the PhD chamber of commerce on Saturday, December 17, 2022, in New Delhi.
The award was handed over to Dr Kanodia by Chief Guest Shri R.K. Sinha, Honourable Former Rajya Sabha Member and Founder & CMD of Security & Intelligence Services (India) Limited (SIS), in the presence of Dr Shalini Rajneesh, Additional Chief Secretary to Govt., Planning, Program Monitoring & Statistics Dept., Govt. of Karnataka, and Rusen Kumar, Founder and Managing Editor of India CSR.
The philanthropic arm of the M3M Group, the M3M Foundation, has always positively impacted society as a pioneer in Social Development projects. To create, carry out, and expand its social welfare programmes over the years, M3M Foundation is working closely with state and central government, civil society and community-based organizations. The Foundation fosters a sense of empowerment and value for marginalised community members through its community service programmes in Education, health, education, and disaster management.
Upon receiving the prestigious award, Dr Kanodia said, "Thank you India CSR team for this honour. This reminds me and gives me more enthusiasm for working hard for my responsibility towards society for the rest of my life. The award is for the whole foundation team and all our partners who are putting the best of their efforts to ensure what we have envisaged as the vision of the foundation. This award is the outcome of our collective efforts."
Pic Source: PR Professionals